Ten Minutes into the Future of Infrastructure
26 March, 2019 | By Richard Thompson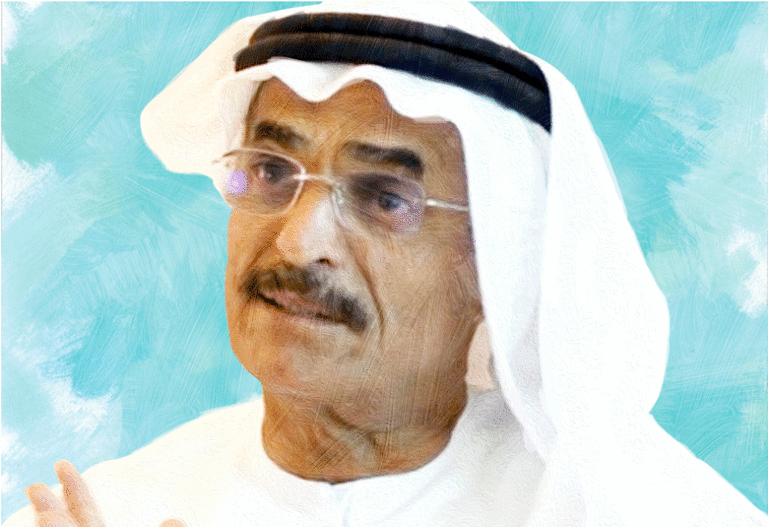 UAE infrastructure minister highlights importance of intermodal transport
Exclusive interview: Research partnerships and Big Data are key to the future of transport investment, says the UAE's Minister of Infrastructure Development Abdullah al-Nuaimi
Abdullah al-Nuaimi is well known for having an abundance of energy and a deep enthusiasm for his subject. But recent progress on several of the country's most important strategic transport projects is perhaps justification for the UAE minister of infrastructure development having an extra spring in his step when he sits down with MEED to talk about the future of infrastructure.
The launch in late December of tenders for the main construction contracts on the second phase of the UAE's $11bn Etihad Rail project capped a year that has seen a huge expansion of the UAE's roads network and major capacity increases at several major ports, including Khalifa Port in Abu Dhabi, Fujairah Port and Jebel Ali Port in Dubai.
Although the development of the federal railway does not fall under his ministerial portfolio, Al-Nuaimi says that progress on the project is a major step towards establishing a world-class, integrated transport system spanning all seven emirates of the UAE.
"Etihad Rail is something that we must introduce for our future plans," he says. "We know how important Etihad Rail is from the outcome of phase one, which removed a huge number of trucks from the roads, improved efficiency and reduced costs.
"With Etihad Rail, you are providing the country's ports with a stimulus that makes their business even more effective," Al-Nuaimi adds. "It makes intermodality better. It reduces the risk on the roads. It means fewer accidents and removes some of the [commercial] traffic."
In a wide-ranging interview that touches on many key policy areas, including opportunities for private investors in infrastructure and the opportunities and challenges of new technology, Al-Nuaimi highlights the importance to the UAE of an efficiently integrated intermodal transport network.
Infrastructure challenges
Al-Nuaimi identifies three primary challenges facing transport ministers around the world. The first of these is the need to keep up with rapidly changing technologies.
"Technology is moving fast. Are we ready for it?" he asks. "Worldwide, this is a huge issue. Most countries are not ready for the new innovation in technologies in terms of regulation and human resources.
"I believe that in the UAE, we have crossed many barriers to the acceptance of new technologies. But you cannot be successful if what surrounds you is behind [you]. There needs to be coherence within the region."
In a federation such as the UAE, integrating infrastructure across multiple jurisdictions and authorities adds a significant degree of difficulty to an already complex challenge.
"Intermodality requires two things," he says. "Means and regulation. The regulatory system that we have today is ready to accept the issue of intermodality."
The next challenge, the minister says, is to develop common standards and processes across different facilities that enable seamless connections across different modes of transport.
"In the UAE, we have done a great job when it comes to maritime ports," he says. "We are talking about Jebel Ali Port. We are talking about Khalifa Port. We are talking about Fujairah Port. But they are each different.
"For example, Fujairah is looking into bunkering. They are doing well and they are a worldwide leader of that business. But are the ports linked together?
"Each emirate has its own system," he says. "They have their own data and they operate within that system and data. If you duplicated or replicated that data, would it be useful? Each emirate is great when it comes to their regional ports, their regional infrastructure – that is why they are competitive. But they do not look at what the other emirates are doing."
Al-Nuaimi says that he would like to develop a system that supports all infrastructure stakeholders across the UAE.
"If we look into a system that could be good for all, if we accumulate data and regulate systems among these ports, and among roads associated with them, I think we are successful," he says.
"We are one of the lucky countries," he says. "We have Etihad Rail coming up very soon. With Etihad Rail, we could actually make intermodality easier. We can make it more effective and we can also be more competitive worldwide because we will have what it takes to link roads and rail with ports."
The third major infrastructure challenge facing governments around the world, according to the minister, is creating the right investment environment to attract private investors to design, build, finance and operate infrastructure, especially when positive long-term trends can be masked by challenging short-term downturns in the economic cycle.
"Today, we have a worldwide dip in the economy and that creates challenges for all. We know that demand is down worldwide. Most countries have failed to create the right environment for the private sector. Most of our regulations and contracts are not yet ready to accept private initiatives and make them comfortable partnering with governments to create future business.
"The private sector requires comfort, transparency and clear systems and regulations," he says. "If we have that, definitely any investor would make a contribution. We know today that the private sector has more money than governments."
Al-Nuaimi continues: "Lately, I have been seeing many investing firms coming to the UAE, trying to partner with the governments to execute road projects in the UAE. We are communicating with them. This is a good sign that the private sector is becoming more confident in what we have put forward.
"Over the past two years, we have covered a lot in trying to get the system ready," he says. "In 2019 or 2020, we will have enough confidence to say that we could make private initiatives comfortable and we would probably look into being a hub for private investors to be part of the development of the UAE."
Watch the full 'Ten Minutes into the Future of Infrastructure' interview with Abdullah al-Nuaimi by clicking here 
Digital transformation
In common with most areas of life today, the infrastructure sector is being transformed by the latest digital innovations. And with developments in artificial intelligence (AI), automation, additive manufacturing and electrification all promising to redefine mobility, transport ministers face a daunting task in knowing which technologies to commit to.
"We have to look into effective technology today," says Al-Nuaimi. "That is becoming a fundamental issue. We need to look at what technology might surprise us with.
"We do not want to see vehicles with no drivers or ships with no crews being introduced and not be ready for it," he continues.
The UAE is among the leading nations in responding to technology at a government level. Last year, in response to the advances in AI, the government introduced a minister for artificial intelligence.
Al-Nuaimi identifies electrification as a game-changing technology for infrastructure. "With electric vehicles, whatever technology is required is essential and it shapes the future," he says. "It shapes intermodality. It shapes our knowledge. So today our readiness would actually be associated with the impact of electric vehicles."
Many ministries in the UAE, including the Infrastructure Development Ministry, are forming associations with leading universities and research bodies as they seek to analyse future trends and assess whether or not governments need to make modifications to their planning in order to meet the requirements of the future.
"Governments today, not only in the UAE, realise that research institutions and universities are part of the fundamentals," he says. "If you engage them, then you know exactly what you are doing."
It is important, he says, that technology is harnessed effectively to enable development, not to lead it.
"If you have technology leading knowledge, you have a problem because you probably have technology that is not built on fundamentals and you might not control it," he says. "We don't want to see ourselves slaves to technological innovation without fundamental knowledge."
Watch the full 'Ten Minutes into the Future of Infrastructure' interview with Abdullah al-Nuaimi here
The 'Ten Minutes into the Future of Infrastructure' initiative is produced by MEED and powered by Mashreq, and aims to explain and highlight the challenges and opportunities facing the infrastructure sector.
26 March, 2019 | .By Richard Thompson