Abu Dhabi offers six oil and gas blocks in first ever licensing round
16 April, 2018 | By INDRAJIT SEN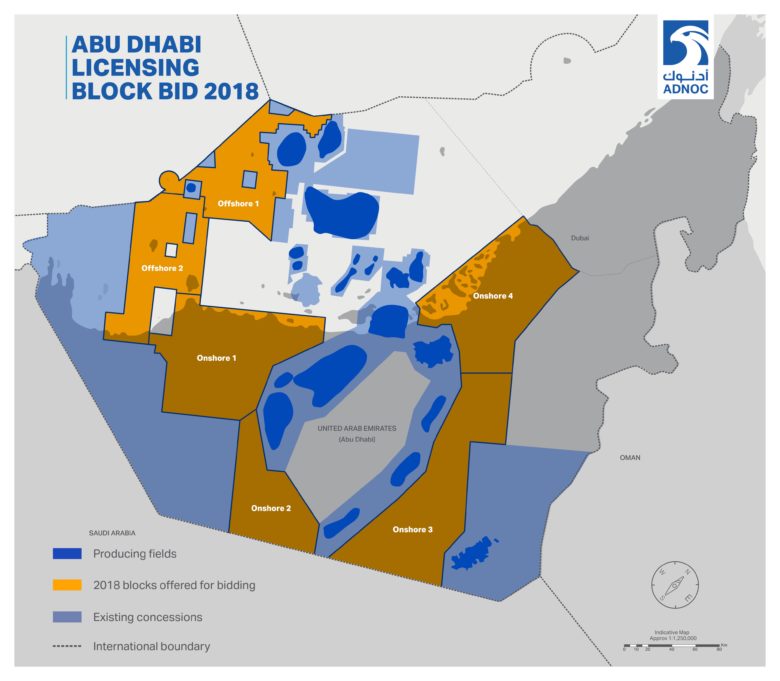 State oil giant Adnoc announces details of four onshore and two offshore blocks in which it will hold majority 60 per cent stake
The Abu Dhabi National Oil Company (Adnoc) has launched the emirate's first ever upstream licensing round by offering six oil and gas blocks up for bidding.
Adnoc has declared four onshore and two offshore blocks open for bidding by international oil companies, in which it will hold the majority stake of 60 per cent. The blocks are spread over a combined land and maritime area of 30,000 square kilometres in the emirate of Abu Dhabi, with sizes ranging between 2,500 and 6,300 square kilometres.
In March, Adnoc Group CEO and UAE Minister of State Sultan al-Jaber said that Adnoc was due to announce details of new blocks for commercial bidding.
Based on historical data and new seismic surveys, Adnoc said the blocks contain 'multi-billion barrels of oil' and 'multi-million trillion cubic feet of gas', based on a P50 estimate of reserves.
Some of the blocks already have discoveries in place, with some containing 'significant unconventional resource potential', according to Adnoc. There are 310 targeted reservoirs in the blocks from 110 prospects and leads.
During the press conference, Abdulmunim Saif Al Kindy, Adnoc's Upstream Directorate chief further revealed, "In the onshore blocks, we have 75 prospects and leads that contain 224 targeted reservoirs. In the offshore blocks, 36 prospects and leads that contain 83 targeted reservoirs. All blocks are in the proximity of existing infrastructure."
Registration is open to companies 'with suitable expertise and technology' to sign up for the bidding round. The Abu Dhabi oil giant has also launched a dedicated website for the licensing round that contains detailed information about the licensing round.
Adnoc will organise roadshows in Abu Dhabi, Houston, London and Hong Kong this month and in May to offer extensive details about the oil and gas blocks and the licensing round process to potential partners.
Post the roadshows, Adnoc will open data rooms to interested parties to view legacy data, seismic surveys and other relevant studies. "There is massive data dating back to accumulation over 50 years of exploration effort that has been included in the database. We are confident that the data will motivate a high degree of interest from companies," Al Kindy told MEED.
Interested firms have until October to submit bids to Adnoc. Abu Dhabi's Supreme Petroleum Council (SPC) will then evaluate the bids, based on the criteria mentioned in the licensing tender, and name the winners by the end of the year.
Successful bidders will be given exploration rights for the blocks. If defined targets are achieved in the exploration phase, the companies will be granted co-production rights with Adnoc.
16 April, 2018 | .By INDRAJIT SEN