Abu Dhabi real estate pivots to green
25 November, 2022 | By MEHAK SRIVASTAVA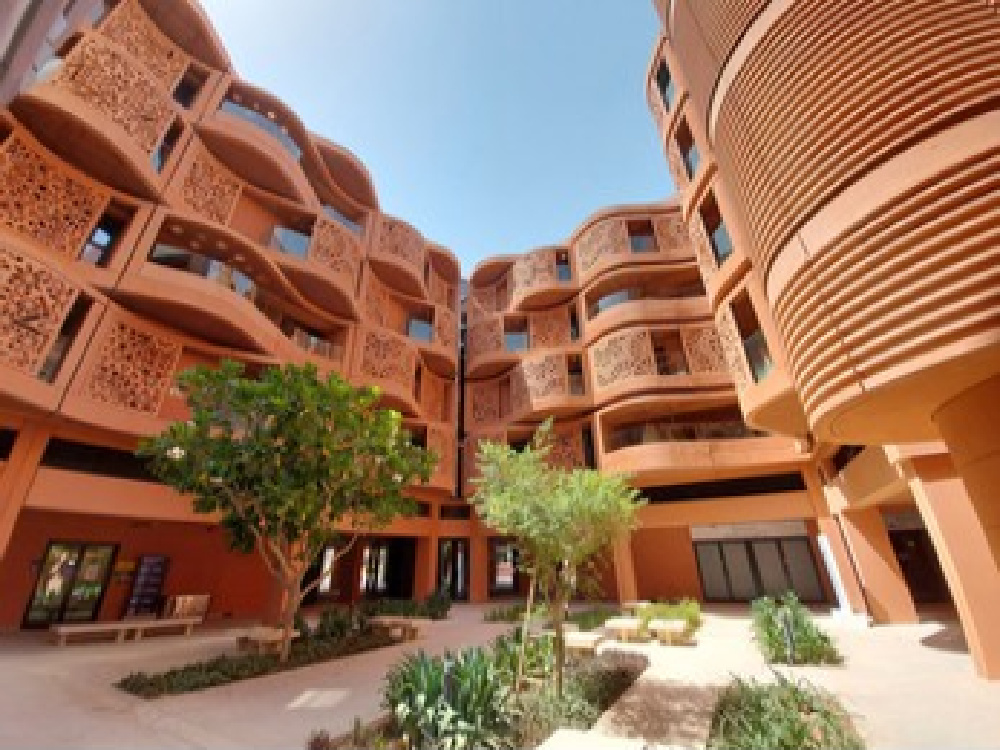 Environmental, social and governance (ESG) principles can become a way for Abu Dhabi real estate to differentiate its offerings at a global scale
This article is the second in a series that captures key highlights from the Abu Dhabi Real Estate Roundtable jointly held by MEED and Mashreq on 28 September, discussing the trends shaping the way forward for the emirate's real estate sector. Participants at the closed-door event included government, business and financial stakeholders.
Tapping into investor demand for sustainable property development could help Abu Dhabi propel its real estate sector to new heights, according to leading industry experts gathered at the Abu Dhabi Real Estate Roundtable.
"Globally, there is a growing call for ESG adoption and sustainable development," said Anthony Taylor, senior executive officer at Masdar Green REIT, speaking during the high-level discussion organised by MEED and Mashreq on 28 September.
"Investors are increasingly looking for 'responsible' investment opportunities and evaluate companies based on specific ESG practices criteria. This highlights the rise in recognition of the climate crisis and how it must be addressed in the real estate industry.
"Now that there is the necessary awareness of the need for climate action, we must continue to take small steps that will have a big impact in the future," said Taylor.
Demand for properties that meet high environmental standards is already being witnessed by stakeholders in the emirate.
"To give you an example; Siemens has a global mandate for their office buildings to meet a minimum LEED Gold certification and they chose to base their regional HQ in Masdar City, which is already home to one of the largest clusters of low carbon buildings in the world," said Francisco Galan, director at Masdar Green REIT and head of development and portfolio management at Masdar City.
The German multinational's regional headquarters in Masdar City is the first LEED Platinum-certified office building in Abu Dhabi and one of the first assets acquired by Masdar Green REIT in 2020.
"Major decisions such as headquarter location, highlights again the investor and tenant appetite for sustainable real estate options," said Galan. "The Masdar Green REIT gives investors that option by investing in sustainable income-generating real estate assets, with a primary focus in Masdar City. This REIT also provides a vehicle through which third-party, sustainable developers can monetise their assets, attracting both real estate developers to Masdar City, and aspiring local and international sustainable investors," said Galan.
The demand and supply for sustainable products is interlinked. Demand will drive the creation of the product, and vice versa.
"Unless there is change demanded for your product, you will continue to build things the same old way," said a senior representative from a real estate development company. "It is indicative that people want a certain kind of lifestyle and will commit to projects that support this."
In January 2022, Abu Dhabi developer Aldar announced The Sustainable City project, to be jointly developed with Diamond Developers at a value of AED1.8bn ($490m).
Spanning an area of 397,000 square-metres on Yas Island, the community will comprise of townhouses, apartments and retail spaces. A core part of the development is its sustainability factor. It will be powered by renewable energy, and incorporate practices around energy-efficiency, recycling, and indoor vertical farming.
Aldar is also the first real estate company in the Middle East and North Africa (Mena) to secure a sustainability-linked loan. In 2021, it signed a five-year, AED300m facility with HSBC that connects interest rates payable to achievement of sustainability targets.
According to stakeholders at the roundtable, the relatively young responsible investing landscape is evolving rapidly. There are numerous challenges around the harmonisation and consistency of data, measurement and maintaining high standards in the real estate industry, however.
Organisations need to start somewhere, and the considerations made today by backing and introducing these priorities in key projects and developments can help create incremental positive change for the future.
Even as demand for sustainable products rises, issues such as upgrading existing properties and a hesitancy to embrace the shift still linger.
"One of the initiatives we have recently introduced in another Dubai property portfolio has been ARC reporting on all assets to highlight, to both tenants and shareholders, some of the lower levels of sustainability these assets are currently achieving," said Masdar REIT's Taylor.  He explained that the motivation behind this initiative is to draw attention and emphasise the need for improvement at both the asset level and in some cases, in tenant behaviour as well.
Retrofitting is another tactic that the government and developers are turning towards as they seek to upgrade existing assets to higher standards.
In a recent announcement, Aldar has said it will invest AED25m ($6.8m) to energy retrofit 13 of its residential communities. The investment will offset 19,000 tonnes of carbon dioxide emissions annually and reduce utility consumption by AED12m across the communities.
READ: Retrofit can be a realistic route to net zero
Abu Dhabi's Mubadala Investment Company has placed responsible investing at the core of its business. Against the backdrop of climate action, the energy transition and the role of business in society, it is continuing to integrate principles of investing responsibly into its decision making and asset management processes.
To help build fluency and institutionalise ESG, Mubadala has established a dedicated responsible investing unit to support its business along this journey.
Implementing change is not easy and it can be a challenge to get people on board with green investment strategies given this is a relatively new investment landscape.
Yet industry players state that partnerships can help achieve sustainable value creation while delivering tangible change and positive impact. A call to action is needed and banks can be seen supporting such efforts by confirming their position to finance projects that meet responsible investing criteria.
At a glance: Sustainable development in Abu Dhabi
National targets
The government's appetite to support sustainable development is underscored in long-term goals such as Abu Dhabi Vision 2030.
For example, the Estidama building design certification system is geared at measuring environmental performance of built structures from the planning all the way through to the decommissioning stage. Within Estidama, the Pearl green building rating system provides minimum criteria that buildings and villas in the emirate must meet from a sustainability aspect.
A dedicated Environment Vision 2030 defines five priority areas (climate change; clean air and noise pollution; water resources; biodiversity, habitats and cultural heritage; and waste management), to ensure integration among three key pillars: environmental, economic and social.
Abu Dhabi Global Market
Launched in 2013 on Abu Dhabi's Al Maryah Island, the Abu Dhabi Global Market (ADGM) is an international financial centre and free zone recognised for its continuously evolving regulatory framework and innovative business environment.
Keeping in line with national and international demand for sustainability, ADGM has increasingly turned its focus towards green finance practices and supporting ESG-led investments.
2019 saw the launch of the Abu Dhabi Sustainable Finance Declaration by the Abu Dhabi Global Market (ADGM). The declaration, supported by over 46 public and private sector entities, aims to increase the quality and depth of green financial products in the emirate, and to create a thriving sustainable finance industry.
In June 2021, Abu Dhabi was ranked 4th highest in the Mena region and 50th globally on the Global Green Finance Index.
Masdar City
Designed as a low-carbon urban development, Masdar City minimises the use of resources and reduces the generation of waste through smart building practices, energy efficiency and clean technology.
Masdar City is also home to the headquarters of the International Renewable Energy Agency (IRENA), a global intergovernmental organisation providing insights and consultancy support when it comes to energy transition.
Stemming from efforts in Masdar City is a green real estate investment trust (REIT), the first of its kind in the region, which directs funds towards sustainable properties within the city. Launched in 2020, the Masdar Green REIT provides investors 'responsible' investment options.
Earlier this year, the REIT signed a financing commitment of a $200m green loan with First Abu Dhabi Bank (FAB) to facilitate portfolio growth.
As of December 2021, the REIT's portfolio was valued at AED980m ($267m), marking a valuation gain of AED32m ($8.7m) over the year.
25 November, 2022 | .By MEHAK SRIVASTAVA