Abu Dhabi's ambition to create the downstream Silicon Valley
23 May, 2018 | By INDRAJIT SEN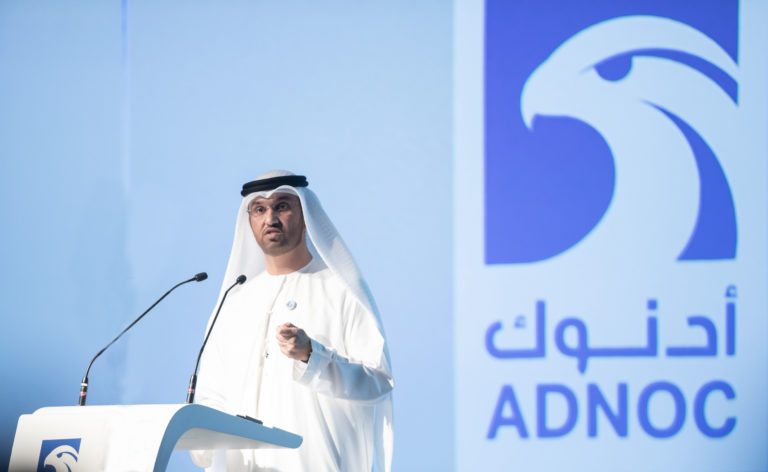 Adnoc intends to transform itself into a global downstream major by investing $45bn to create an integrated refining and petrochemical complex in Ruwais
An astounding investment of $45bn has been announced by the Abu Dhabi National Oil Company (Adnoc) for expanding and upgrading its existing downstream facility in Abu Dhabi's Ruwais to create the world's largest integrated refining and petrochemicals complex by 2025.
The exercise, which has been deemed by Adnoc as an endeavour to convert the Ruwais Industrial Complex into the 'Downstream Silicon Valley' of the world, forms the nucleus of the Abu Dhabi energy major's Vision 2030 strategic manifesto being championed by the company's group CEO Sultan Ahmed al-Jaber.
Adnoc's senior executives, Al Jaber included, have at various industry events summarised the Vision 2030 blueprint as a business overhaul mechanism to create 'a more profitable upstream, a more valuable downstream, and ensuring a sustainable and economic supply of gas, underpinned by more proactive and adaptive marketing and trading'.
The three pillars on which the strategic objectives rests entail Adnoc to transform itself into a more internationally-facing company, that lays equal emphasis on unlocking commercial value from the full spectrum of the energy chain, and looks to seize opportunities in key markets globally – akin to international oil companies.
Adnoc hosted the Downstream Investment Forum which in Abu Dhabi on 13 May, which brought together the energy ministers of India and Egypt, and the CEOs of major IOCs like BP, Total, Eni and Occidental Petroleum, to publicise its refining and petrochemical goal. It also used the platform to demonstrate its metamorphosis into a company that is "focused on stretching the dollar from every barrel of oil" it produces.
"Adnoc is focused today on becoming a very resilient, modern national oil company. In order for us to do that way have to be an integrated company catering to the whole value chain of hydrocarbons," Al-Jaber told Bloomberg TV in an interview after announcing the investment plan.
"Adnoc has been a proud player in the upstream, and a very responsible, reliable and stable supplier of crude to the world market. We find this [downstream investment] to be a logical step and a natural extension to our involvement in the international oil and gas market. To us, this is simply a very important step to diversify our investments into downstream. We find this sector to be a very important and growing market. As such we have earmarked $45bn in order for us to expand into such significant opportunities," the group CEO, who is also a UAE Minister of State, told Bloomberg.
Downstream complex
Adnoc's existing downstream portfolio comprises eight group companies processing 10.5 billion standard cubic feet of gas per day, and with a refining capacity of 922,000 barrels a day (b/d) of condensate and crude, with the Ruwais Industrial Complex in the Western Region of Abu Dhabi being the hub of the firm's downstream activity.
Adnoc produces some 40 million tonnes a-year (mt/y) of refined products, and several other products, including granulated urea, liquefied petroleum gas (LPG), naphtha, gasoline, jet fuel, gas oil and base oils, fuel oil, and other petrochemical feedstock.
By committing $45bn to the downstream enhance drive, Adnoc seeks to fuel its plans to expand the Ruwais complex's refining capacity by more than 65 per cent, or 600,000 b/d by 2025, through the addition of a third, new refinery, that will lead to a total capacity of 1.5 million b/d.
The new refinery, coupled with other projects underway within the Ruwais complex, are slated to increase the capability, flexibility and output of Abu Dhabi's refining operations by adding to the variety of crude grades that can be processed and that in turn enables the export of increased volumes of the UAE's high-value Murban crude.
The budget allocated will also see the entire Ruwais complex upgraded to dramatically increase its flexibility and integrated capabilities to produce higher volumes of higher-value petrochemicals and derivative products. It includes a project to build one of the world's largest mixed feed crackers, trebling production capacity from 4.5 mt/y in 2016 to 14.4 mt/y by 2025.
The UAE accounts for 10 per cent of the world's sulphur production, with an output of 7mt/y mainly processed in Ruwais; a figure that will rise to 10mtpa "soon", Adnoc Group's Downtream director Abdulaziz Abdulla Alhajri said during his presentation at the Forum.
About 2 mt/y of fertilisers are also produced in Ruwais, he said. To further tap into the fertilizer sector, Adnoc has announced it is exploring forming a joint venture with Moroccan fertilizer firm OCP.
The proposed partnership will comprise two fertiliser production hubs, one in Ruwais and the other in Morocco's Jorf Lasfar, utilising both existing and new assets, giving the proposed joint venture global market reach.
Economic engine
Adnoc will also develop a new, large-scale, manufacturing ecosystem in Ruwais through the creation of new petrochemical Derivatives and Conversion Parks. The Ruwais Derivatives Park will be built on a 6 square kilometres area adjacent to, and fully integrated with, the larger Ruwais complex.
Adnoc hopes the Ruwais Derivatives Park will be a catalyst for the next stage of petrochemical transformation by attracting companies to invest and produce new products from the growing range of feedstocks that are available in Ruwais. That will in turn facilitate the production of many new petrochemical products, in verticals such as construction chemicals, oil and gas chemicals, surfactants and detergents, to name just a few.
"All petrochemicals known to mankind will begin to be produced in the 12km x 5km Ruwais industrial area by 2025," Alhajri said.
A new linear alkylbenzene (LAB) chemical plant has also been proposed to be built within the sprawling Ruwais facility, for which Adnoc has already announced awarding a project development deal to Spanish energy firm Cepsa. The manufacturing facility will be taking feedstocks of kerosene and benzene, and is expected to have a production capacity of 150,000 tonnes per year of LAB upon completion.
Furthermore, the new Ruwais Conversion Park will boost new business creation even further down the value chain, taking feedstock from both the Derivatives Park and other Ruwais assets to manufacture higher-value end products, including packaging materials, coatings, high voltage insulation and automotive composites.
The Conversion Park, occupying another 3.6 square kilometers, will also act as a catalyst for the creation of dedicated industry clusters, that will be able to supply products using the derivatives and wider infrastructure available in Ruwais.
By elevating Ruwais into becoming the nerve centre of its downstream campaign Adnoc is looking to create a wider manufacturing hub that will stimulate In-Country Value creation, private sector growth and employment. The strategy is expected to add more than 15,000 jobs by 2025 and contribute an additional 1 per cent to GDP each year.
Both the Ruwais Derivatives Park and Ruwais Conversion Park will act as key nodes in the global refining and petrochemical supply chain. Across both parks, in addition to supplying feedstocks, Adnoc will make available developed land, infrastructure, utilities and shared services at "attractive rates to partners", it says in a statement.
As part of the overall Ruwais area development, Adnoc has taken the task upon itself of expanding and developing Ruwais City, located some 240 kilometres west of Abu Dhabi city, to meet the increase in demand for housing and other facilities resulting from the enlargement of the Ruwais Industrial Complex. The city currently houses 25,000 people from 64 nationalities, says Alhajri.
Along with new homes, Adnoc is constructing infrastructure and community enhancement projects for Ruwais City that include the expansion of the public transport system and other community amenities such as healthcare facilities, secondary and tertiary educational facilities, a central park and recreation spaces, a shopping mall, beach area and a traditional souq.
Commercial gains
For a project as massive and strategically crucial as the Ruwais integrated downstream complex, finance sources are vital. Going by the recent fragmentation of Abu Dhabi's offshore concession into four key oil blocks for the renewal process, a commercially-motivated move that fetched $8.3bn from seven old and new foreign firms, it is likely that Adnoc will keenly explore the partnership model to fund the Ruwais upgrade exercise.
"Adnoc has been able to attract the best partners from all over the world, and that must continue. In order for us to be able to do all of this in a very smart way we need to be open, as far as our financing mechanisms are concerned. We cannot continue depending on our own balance sheet or cash flow from our own operations. We have to be smarter about how we better manage our cash. As such we are engaging with international investors as well as with sound, robust financiers from all over the world," Al-Jaber told Bloomberg TV.
"We will look at becoming more smart in our ability to tap into financial resources. So any financial instrument that will allow us to have access to cheaper capital is going to be the option we choose. Even though we have access to our own balance sheet it does not mean we will only use our capital or go all equity. We will look for more methodologies and financial instruments in order for us to maximise value and reduce our costs," he said.
The Adnoc statement says interest in the new downstream investment and partnership opportunities the Ruwais plan presents has already been expressed and discussions are now taking place with global energy companies and domestic investors.
"The partners we are looking for are those that have already established relationships with us in Abu Dhabi and new friends alike. Partners that will help us in this journey of value maximisation … partners that bring real strategic value add, smart capital access, market access to where the opportunities are, as well as technology and innovation with out-of-the-box thinking," Al-Jaber said during the interview.
He said news about Adnoc's partners for the downstream campaign will be made public "soon".
23 May, 2018 | .By INDRAJIT SEN