BRIEFING PAPER: Sustainable Vision
05 January, 2020 | By Richard Thompson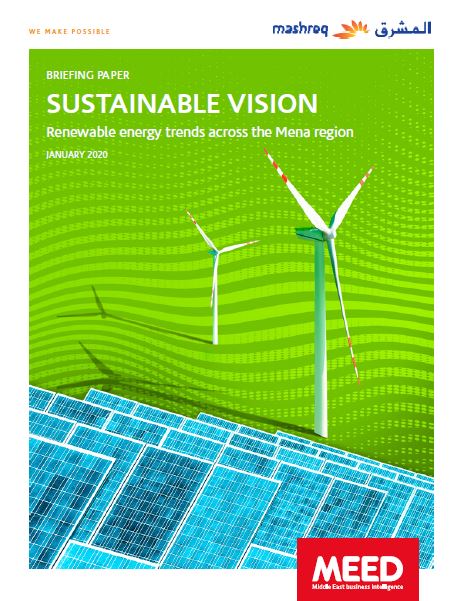 Governments across the Mena region are recognising the need to strategise their renewable energy investments
With nearly $76bn worth of renewable energy projects planned or underway, according to regional projects tracker MEED Projects, the Middle East and North Africa (Mena) region is steadily increasing the share of renewables in its energy mix.
Energy supply in the region has traditionally been centred on the generation of electricity from oil and gas-fired power stations. The abundance of low-cost hydrocarbon fuels has made conventional thermal power the most economic source of energy.
As a result, renewables and alternate fuel sources have largely remained underdeveloped in the Mena region.
But a growing drive to maximise returns on the region's hydrocarbons assets and reduce carbon emissions has seen a surge in renewable energy investments in recent years. And, led by the UAE and Saudi Arabia, the Middle East is now seen to be a significant player in renewable energy.
Falling costs, rising targets
Certain challenges impede the successful adoption of renewable energy across the region, including high adoption costs, inconsistent and unpredictable amount of electricity generation, and instability caused by uncontrollable conditions such as erratic weather. These come in addition to the political instability that has rocked some countries in the region.
However, boosting power supply and production capacity is a priority for all governments in the region, as they aim to meet growing domestic demand. By meeting their power needs through renewable sources, the governments can optimise hydrocarbons for export to finance the economy.
Nearly all countries in the Mena region have set ambitious renewable energy targets, including:
| | |
| --- | --- |
| COUNTRY | TARGET ENERGY SHARE (%) |
| Algeria | 27% by 2030 |
| Bahrain | 10% by 2030 |
| Egypt | 44% by 2030 |
| Iran | 5% by 2020 |
| Iraq | 4% by 2030 |
| Jordan | 20% by 2025 |
| Kuwait | 15% by 2030 |
| Lebanon | 30% by 2030 |
| Libya | 10% by 2025 |
| Morocco | 52% by 2030 |
| Oman | 30% by 2030 |
| Qatar | 20% by 2030 |
| Saudi Arabia | 30% by 2030 |
| Syria | 30% by 2030 |
| Tunisia | 30% by 2050 |
| UAE | 44% by 2030 |
| Yemen | 15% by 2025 |
Source: Irena
Recent years have seen a sharp fall in the cost of solar and wind technologies, spurred by growing investments in research and development, and the entry of private firms in the game which has increased competitiveness and driven down costs.
According to the International Renewable Energy Agency (Irena), solar PV module prices have fallen by around 80 per cent since the end of 2009, while wind turbine prices have fallen by 30-40 per cent. Moreover, the cost of electricity from bioenergy, hydropower, geothermal, onshore and offshore wind was within the range of fossil fuel-fired power generation costs between 2010 and 2018.
In its exclusive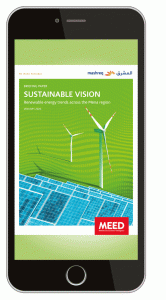 market briefing paper, Sustainable Vision the MEED Mashreq Energy Partnership provides a detailed snapshot of the renewables sector in the Mena region.
The report, which has been produced by MEED in partnership with Dubai-based Mashreq Bank, looks at current and planned activity in the Mena region's clean energy sector. The briefing paper identifies key renewable energy trends in the region and highlights government strategies to achieve renewable energy targets.
Now in its second year, the MEED Mashreq Energy Partnership aims to build a knowledge bank of energy sector insights and data through a series of briefing papers that provide technical commentary on the regional energy industry.
*Follow Mashreq Corporate and Investment Banking Group on LinkedIn for regular updates, thorough market knowledge, and insights.
05 January, 2020 | .By Richard Thompson