BRIEFING PAPER: The Quest for Gas
26 September, 2019 | By Richard Thompson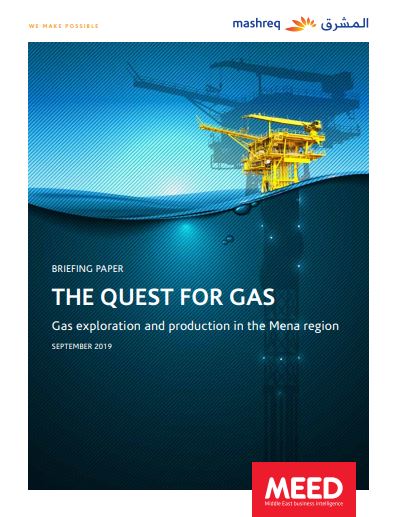 Natural gas production maintains steady incline
Middle East producers are boosting natural gas output to meet rising energy demand
About $33.5bn-worth of gas exploration and production projects are under execution across the Middle East and North Africa (Mena) according to MEED's projects database MEED Projects, making the Mena region one of the leading upstream gas markets globally.
Boosting natural gas production has become a priority for governments in the Mena region, as they seek to meet rising domestic demand, which has grown by up to 15 per cent annually, led by the power and industrial sectors.
An additional driver is the desire for a cleaner energy mix, as natural gas is being increasingly identified as a less polluting fuel source.
With more than 50 per cent of the world's crude oil reserves and 45 per cent of global gas deposits, the Mena region is home to the world's biggest oil, gas and petrochemicals projects spenders.
But until recently, only a handful of state-owned energy companies in the region have had access to enough easily recoverable gas to meet their domestic needs, let alone support gas exports.
Now others with less developed natural gas reserves are also seeking to raise their gas production, both to fulfill domestic demand and claim some share of the global gas market.
Investments on the rise
Over $1tn worth of planned and committed investments are forecast for the Mena energy sector over the next five years, according to the Arab Petroleum Investments Corporation (Apicorp) Mena Annual Energy Investment Outlook 2019-2023.
The report says that total investments in the Mena gas sector in particular will amount to $186bn in the same period, of which a little under half of which is already committed.
Apicorp says that demand for gas in the Mena region will grow at about 2 per cent per a year over the next five years, making the Mena region a primary growth market for natural gas consumption and investment.
In its exclusive market briefing paper, THE QUEST FOR GAS, the MEED Mashreq Energy Partnership provides a detailed snapshot of the upstream gas sector in the Mena region.
The report, which has been produced by MEED in partnership with Dubai-based Mashreq Bank looks at current and planned activity in the Mena region's natural gas exploration and production sector.
The briefing paper identifies key players in the region and their strategic policies to meet national targets.
Now in its second year, the MEED Mashreq Energy Partnership aims to build a knowledge bank of energy sector insights and data through a series of briefing papers that provide technical commentary on the regional energy industry.
26 September, 2019 | .By Richard Thompson