Capital expenditure boosts Egypt's construction sector
22 August, 2019 | By Colin Foreman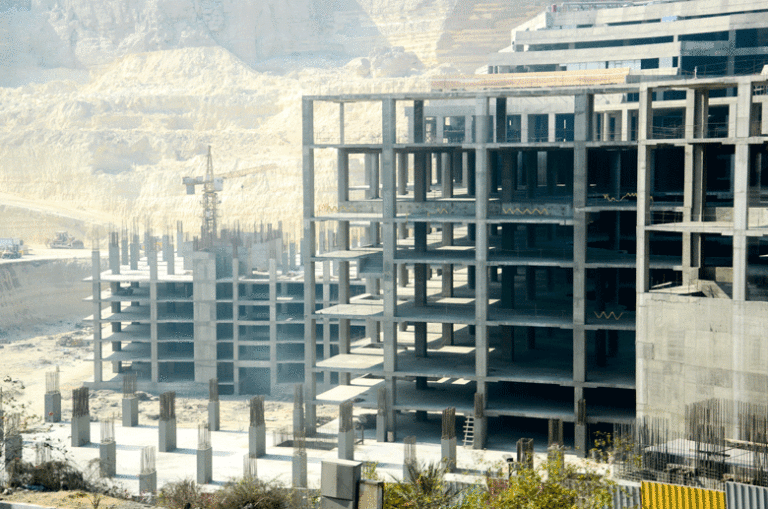 High levels of contract awards over the past few years have allowed Egypt to regain its mantle as a construction market of regional importance, but there are fears the spending spree cannot be sustained
When the announcement was made at Egypt's economic development conference in Sharm el-Sheikh in March 2015 that the government planned to build a new capital city 45 kilometres east of Cairo, it marked a pivotal moment for the country's construction sector. With 700 square kilometres of land to develop, the capital city launch was – at the time – the region's most ambitious new construction undertaking since the 2009 global financial crisis.
The announcement followed President Abdul Fattah al-Sisi's multibillion-dollar Suez Canal expansion project, his first major project launch after coming to power in 2013. The fast-track canal expansion, which was funded by Egyptians' personal savings, began in late 2014 and was completed in August 2015.
Despite the fact the Suez Canal scheme proved Egypt was capable of delivering major projects, plans with an estimated price tag of $45bn are inevitably met with a degree of skepticism. This uncertainty was not helped by ultimately unsuccessful negotiations between the Egyptian authorities and Abu Dhabi-based developer Eagle Hills over the development of the capital city project.
Clarity finally came in 2016, when contracts were awarded for the first building packages, and since then Egypt has actively engaged in delivering its promises.
In July this year, officials working on the scheme said 55 per cent of the city's administrative district, which will house 29 ministries, had been completed, and some 50,000 government workers would be transferred to the newly opened officesnext year.
Record award levels
Progress on the capital city and other government-backed construction projects, such as New El-Alamein City, has been supplemented with private sector investment from local Egyptian property developers and GCC investors. Egypt remains an attractive market for GCC investors, including Dubai real estate developers Majid al-Futtaim and Emaar; however, many of the big-ticket government-backed investments have targeted other sectors such as power and water and heavy industry.
Together, these capital expenditure projects have boosted the construction sector, resulting in record levels of contract awards. According to regional projects tracker MEED Projects, there were $3.8bn of construction contract awards in 2014, the year before the capital city project was launched. This figure grew to more than $4bn in 2015 and 2016, then jumped to nearly $12bn in 2017.
The 2017 total was boosted by $3bn of work secured by Beijing-based China State Construction Engineering Corporation at the capital city. The work includes building a 345-metre-tall tower, 12 business complexes, five residential buildings and two hotels.
In 2018, the total value of construction awards dipped to $8.5bn, still considerably more than the $4bn of work let during 2016. The high level of contract awards means Egypt has returned as a construction market of regional importance. Only Saudi Arabia with $11bn and the UAE with $24bn had higher total values of construction contract awards in 2018.
Opportunities abound
The rise of Egypt's construction sector has brought with it major opportunities for local and regional contractors that were hungry for new work as project activity in other key markets slowed down.
"There have been almost unlimited amounts of work available for contractors in recent years," says a regional contractor. "The work is mostly with the various government ministries and the army, [but] while the projects are most definitely moving ahead, there are concerns about whether payments are made on time, and this is a risk that contractors have to take on when signing up for new work."
According to MEED Projects, the contractor with the largest backlog of construction work is China State, which has $5.8bn of work at the execution stage. China State's market-leading position reinforces China's increasingly dominant role in the region's construction market thanks to its Belt and Road Initiative.
Six other contractors have more than $1bn of work at the execution phase. They are Orascom Construction with $2.6bn, Hassan Allam Construction with $1.6bn, The Arab Contractors with $1.4bn, Degla Group with $1.3bn, Concord for Engineering Contracting with $1.2bn and Petrojet with $1.1bn.
End in sight
Another concern for contractors is how long Egypt can sustain its project spending spree. "There is a lot of ongoing work, and the fear is that it might fall off a cliff in 2021 or 2022 as the money runs out," says the regional contractor.
Data from MEED Projects suggests these fears are justified. By the end of July this year, the total value of construction awards had reached just over $1bn, meaning it is unlikely to achieve the $4bn total recorded in 2016, let alone the $8bn for last year.
As projects continue to be delivered onsite this will not be an immediate problem for contractors, but if the pace of awarding new work remains slow, Egypt's construction sector will face tougher times ahead.
22 August, 2019 | .By Colin Foreman