Digitalise to thrive
28 February, 2021 | By DANELLE WYPER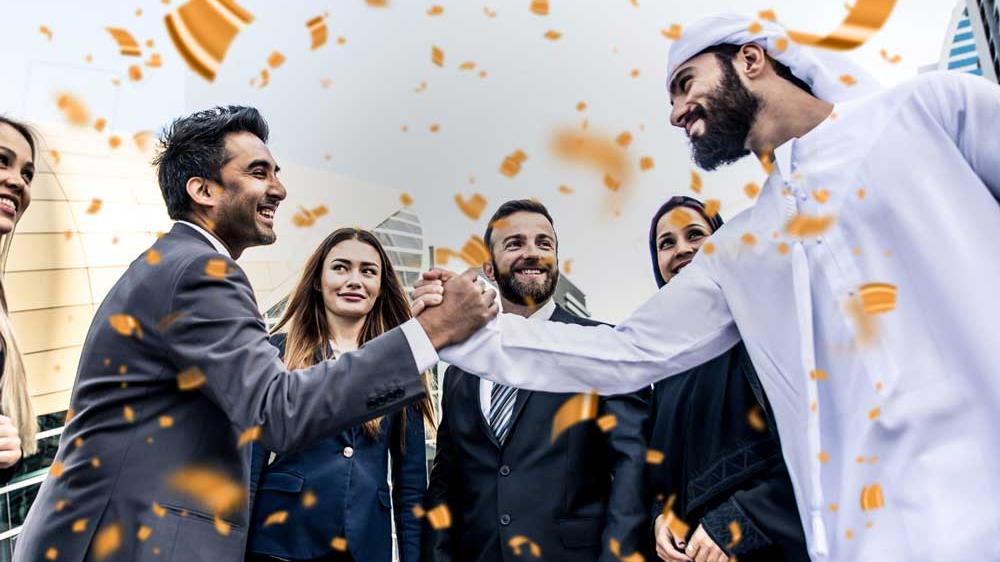 SME Connect, brought to you by Mashreq NEOBiz and MEED Live, offered perspectives on the importance of harnessing digital platforms to support growth
2020 has been a tough year for small and medium sized enterprises (SMEs) around the world as lockdown restrictions prompted by the Covid-19 pandemic have restricted travel, disrupted supply chains and devastated demand in sectors such as retail, hospitality and transport.
The long-term impact will be shaped by how well economies have adapted. The UAE has been quick to respond and within two weeks of the lockdowns being introduced, had 600,000 students engaged in remote learning and businesses were able to successfully implement online, home-working strategies.
Established patterns of consumer behaviour have changed dramatically as a consequence and e-commerce has grown at unprecedented rates during the pandemic.
The recent 'Back to Business' study conducted by payments provider Visa revealed that only one in five UAE consumers intended to visit physical stores for end-of-year holiday shopping in 2020, with the rest planning to use online channels.
This is supported by findings summarised in a report by global management consultant Kearney, which states that the growth of the GCC e-commerce sector is predicted reach $50bn by 2025.
While there is debate about how many of these new patterns will continue once the immediate threat has passed, it is clear that digitalisation, with its potential to boost speed, efficiency and convenience, is here to stay, and SMEs must adapt to survive.
"The message [to SMEs] is loud and clear," says Mashreq Bank CEO Ahmed Abdelaal. "There is a necessity and opportunity for businesses to upskill or remodel their services to fully leverage the ever-growing digital ecosystem."
Digital banking support
Speaking at the 2020 SME Connect virtual forum, Abdelaal explained that it is essential that banks support SMEs in their digital transformation.
"It is incumbent on the financial sector to facilitate online banking for SMEs in every way possible," says Abdelaal. "We cannot allow our valuable, job-creating SMEs to fall behind because of a structural failing, outdated infrastructure or bureaucratic hurdles."
Visa's Back to Business survey also reported that 78 per cent of consumers want alternative ways of operating and making payments. The study showed that an encouraging 67 per cent of SMEs are listening to their customers and have tried to implement new processes.
"Almost half of small businesses have started allowing contactless payment for the first time since the start of the Covid [pandemic]" says Rakesh Khanna, vice president of business solutions at Visa in the Middle East and Asia.
Technology leveller
Digital technology not only offers improvements to banking and payments, it has the potential to improve operations throughout a business.
Speaking at the SME Connect forum, Mashreq Bank executive vice president and head of digital platform Mashreq NEOBiz Rohit Garg said that the size and agility of SMEs puts them in a strong position to fully leverage digital solutions.
"Technology is a great leveller," said Garg.  "From a small-business perspective, it can help them to increase efficiency and productivity, and reduce startup/capital costs. They could use a cloud-based solution for HR,
marketing and banking. It can make manpower more flexible, reduce sales costs through e-commerce and can give access to new markets and customers."
Garg says that better harvesting and use of data will help SMEs to better understand their customers and enable them to hyper-personalise communications and services.
Data can be used by SMEs to make smarter business decisions to reduce costs, maximise revenue and to secure finance.
"Once [an SME] has data available digitally, they can leverage working capital," says Khanna. "We can say 'this is the data from a payables and receivables perspective. How do we partner with the banks, with the fintech companies and the small business to provide credentials for the lending institutions to make a decision?'"
Regional Challenges
Early investment in digital infrastructure combined with a relatively young population puts the UAE in a strong position to thrive in the new, technology-driven world.
But with a heavy reliance on imported goods and materials, the region is vulnerable to disrupted international supply chains.
"Electronics have been in constant shortage over the last couple of months and we don't expect that to get better anytime soon," says Jacky's Business Solutions chief operating officer Ashish Panjabi.
"There is more demand than supply for laptops. There is more demand than supply for tablets. There is more demand than supply for televisions," says Panjabi.
"The supply chains either could not anticipate that level of demand or they were impacted because they were shut down, or the logistics were affected."
One of the outcomes of the pandemic is an increased focus on the localisation of supply chains, with an upsurge of interest in robotics and 3D printing, as well as in food security.
Other winners emerging from the crisis have been delivery services, healthcare and, most significantly, the technology sector.
Dr Karim El Solh, co-founder and CEO at Gulf Capital says that Gulf Capital has invested almost AED2bn in the technology space. "We are in payment, in e-commerce, artificial intelligence, telemedicine and e-pharmacy. We are trying to invest in this new economy and to be a part of it."
28 February, 2021 | .By DANELLE WYPER