Dubai awards $3.8bn concentrated solar project
24 September, 2017 | By Andrew Roscoe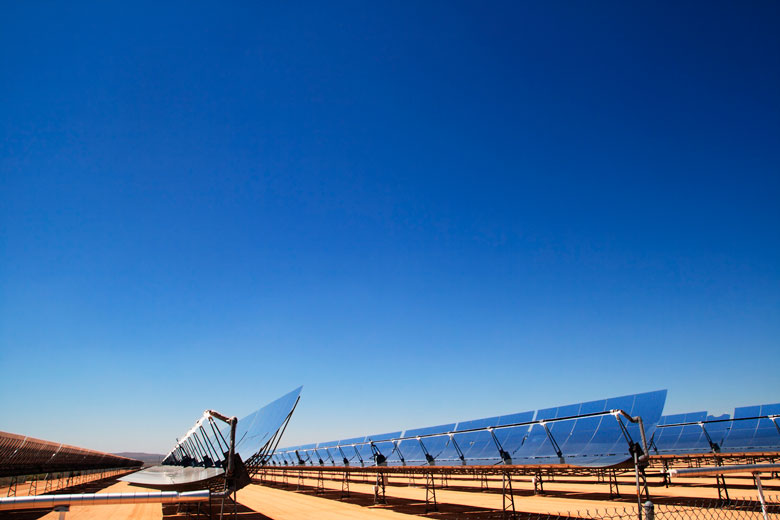 Emirate's 700MW CSP facility will be developed under world-record tariff
Dubai Electricity & Water Authority (Dewa) has awarded a contract for a 700MW concentrated solar power (CSP) solar project in Dubai, which will have a total value of AED14bn ($3.8bn).
Saudi Arabia's Acwa Power will develop the 700MW CSP plant, which will be the largest single site CSP project in the world, for a levelised tariff of 7.3$cents a kilowatt hour ($c/kWh). MEED reported in June that Acwa Power had submitted the lowest bid of about 9.45$c/kWh for the initially proposed 200MW CSP project. The final approved 7.3$c/kWh is the lowest unsubsidised tariff for utility-scale CSP solar in the world.
Acwa Power will develop the 700MW CSP project in partnership with China's Shanghai Electric. The CSP scheme will be developed under the independent power producer (IPP) model. The project will be commissioned in stages, starting in the fourth quarter of 2020.
The 700MW project will form the fourth phase of Dubai's Mohammed bin Rashid (MBR) solar park, and will be the first CSP project at the park. The emirate had set a target to produce 1GW of CSP solar by 2030, but this may be increased in the future due to the significant size of the awarded contract for the fourth phase.
The benefit of CSP solar is that it allows energy to be stored, so that power can be dispatched during the night.
In September 2016, Dewa awarded the advisory services contract for the CSP transaction to a consortium led by KMPG of the Netherlands.
KPMG will be the financial adviser, and will be supported by the UK's Mott MacDonald as technical adviser and Ashurst, also of the UK, as legal adviser.
In March this year, Dewa inaugurated the 200MW photovoltaic (PV) second phase of its Mohammed bin Rashid al-Maktoum solar park.
The 200MW photovoltaic (PV) plant, the largest completed PV plant in the Middle East, was officially opened on 20 March.
The 200MW facility was developed by a consortium led by Saudi Arabia's Acwa Power, with Spain's TSK providing EPC services and the US' First Solar providing solar panels for the project.
The Acwa Power consortium was awarded the contract to develop the plant in January 2015. The developer had been initially selected as preferred bidder for the originally tendered 100MW second phase, but eventually signed a power purchase agreement with Dewa for a then world record tariff of 5.85 cents a kilowatt hour. The final agreed tariff was reduced to 5.61 cents a kilowatt hour.
24 September, 2017 | .By Andrew Roscoe