Emaar receives bids for world's tallest tower in Dubai
23 January, 2018 | By COLIN FOREMAN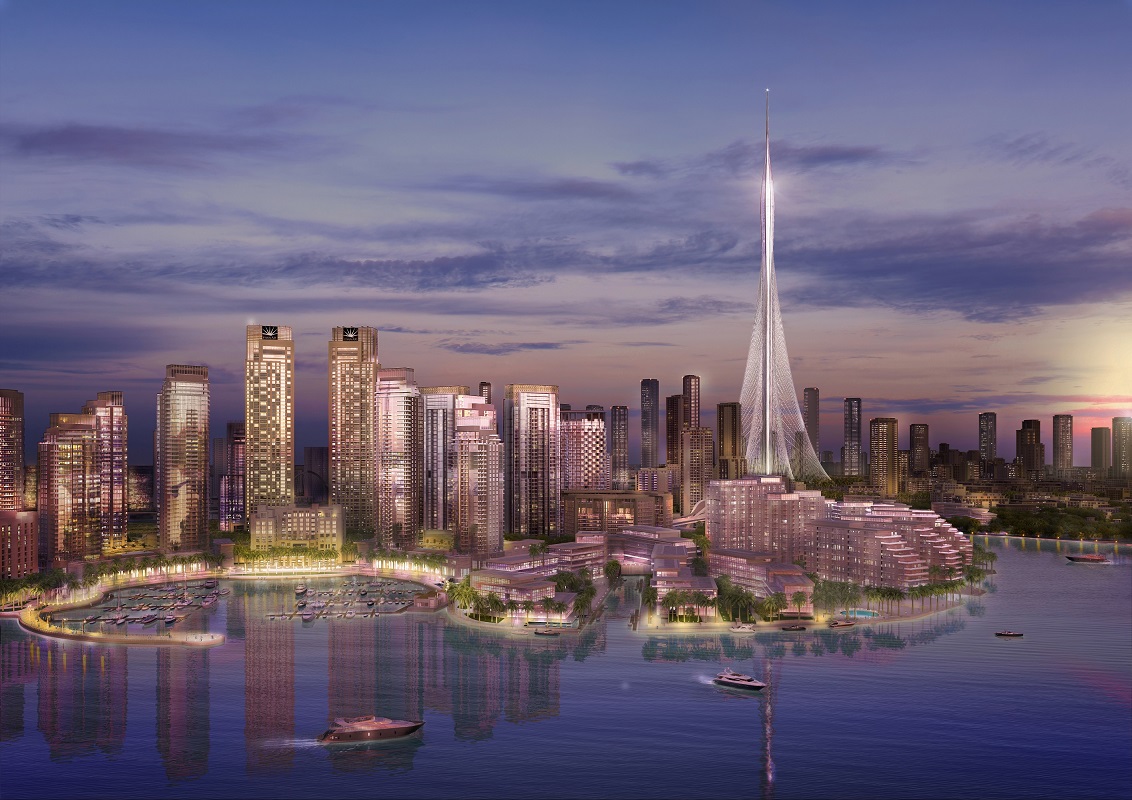 Local developer Emaar has received fresh bids for the contract to build the world's tallest man-made structure in Dubai.
It is understood that at least two groups bid for the contract to build The Tower at Dubai Creek Harbour.
They are:
– Belhasa Six Construct (local/Belgium)/Tishman (US)
– China State Construction Engineering Corporation (China)
The superstructure comprises three key elements: a concrete core; a steel frame structure on top of the concrete core; and cables descending down from the tower to the ground.
In late 2016, Dubai officially confirmed the tower will be the world's tallest man-made structure when it is completed. The final height has not been disclosed. To become the world's tallest tower, it will have to be more than 1,008 metres in height, which is the planned final height of the under-construction Jeddah Tower in Saudi Arabia.
The Tower at Dubai Creek Harbour has been tendered before. Emaar received prices from contractors in 2017, and it is understood that those offers were not within Emaar's budget.
Emaar had earlier in 2017 appointed two contracting groups to provide pre-construction services over a period of six months for the tower. At the time, it was expected that the main construction contract would be awarded to one of the two groups. MEED reported in April that the two groups selected for pre-construction services were Six Construct in joint venture with South Korea's Samsung C+T, and a team of the local Dutco Group and Tishman.
Companies are already working on the project. Belhasa Six Construct is working on the raft foundations. France's Soletanche Bachy is the piling contractor for the project.
Spanish/Swiss architect and engineer Santiago Calatrava Valls is the main consultant on the project with the local office of Aurecon, which is supported by UK's RMJM and Dubai-based DEC, acting as local engineer and architect of record.
The project manager for the tower is US-based Parsons.
Another recording-breaking project planned for Dubai Creek Harbour is the world's largest shopping mall.
Emaar has extended the tender closing date for the contract to build the estimated AED15bn-AED18bn ($4bn-$5bn) retail district to 26 April. The original closing date was 17 December 2017.
The total built-up area of the mall is expected to be about 3 million square metres, with 1.7 million sq m of retail, 550,000 sq m of residential, 180,000 sq m of commercial, a 175,000-sq-m basement, and a 40,000-sq-m hotel. Emaar's Dubai Mall, which is the world's largest shopping centre by total area, has a total area of 1.124 million sq m.
The consultants working on the mall are Netherlands-based Arcadis and the UK's Benoy.
23 January, 2018 | .By COLIN FOREMAN