EXCLUSIVE: Construction industry must change its ways
30 July, 2017 | By RICHARD THOMPSON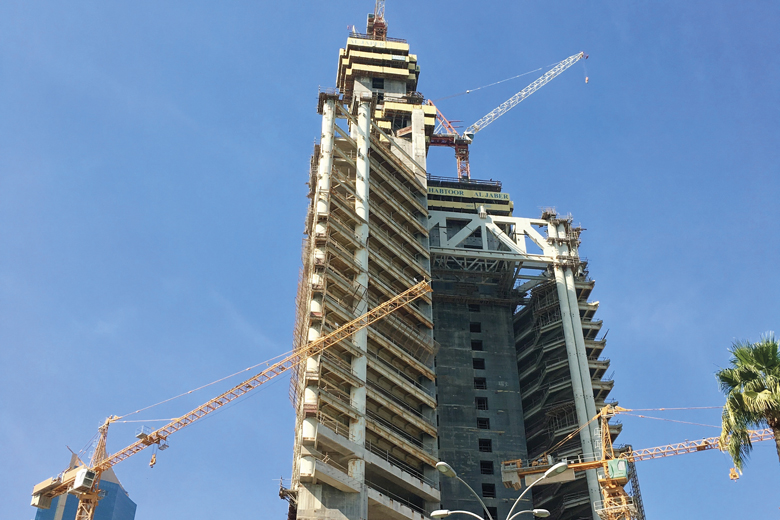 CEO of UAE bank says fall in oil prices has exposed problems in GCC construction practices
Construction industry clients and contractors in the GCC must change the way they do business in order to improve project delivery in the region.
Speaking in an interview with MEED, the CEO of Mashreq, one of the UAE's biggest lenders to construction companies, says the fall in oil prices has exposed problems in GCC construction practices and that it is time for change.
"Contractors have suffered in the past from late payments by clients," says Abdul Aziz al-Ghurair. "And I believe the contractor sometimes responds aggressively by slowing down work, or even walking off the job in protest over cash flow.
"We expect every client and government, once in contract with a contractor, should honour their commitment. It is not good that paymasters withhold money. Contractors not getting paid can trigger a big chain of defaults, which is not acceptable."
Design changes
Al-Ghurair says late changes to project designs also add to the problems in the construction industry, creating delays and the opportunity for disputes.
"We see projects going to tender with half-finished designs and then, once the contract is awarded, clients change the scope and expect the contractor to carry on," he says. "They then get hit by variations and want to sort it out at the end of the project."
But Al-Ghurair says the contractors themselves must also take the blame for the construction industry's bad habits because they tolerate some of the bad practices.
"Contractors are often not very contractual," he says.
Al-Ghurair says that as the regional construction industry grows and projects get bigger and more technically complex, local contractors will have to start adopting the practices of their international counterparts.
"The construction industry will become more contractual as the industry grows and evolves," he says. "Tribal relationships will have to be put to one side and all sides will have to stick to contractual obligations. We see a difference between the mentalities of local and foreign contractors. Foreign contractors are very contractual and will raise a claim."
One of the most typical criticisms of the construction industry is that the traditional practice of awarding contracts to the lowest bidders locks in a culture of claims and disputes because it forces contractors to submit bids for work at less than the cost, in the hope that they can regain profits out of variation order claims.
But Al-Ghurair says the issues of delayed payments and late design changes are a bigger concern.
"I think it is right for the owner to try to get the best price and to go out to competitive bidding," he says. "But as a contractor, once contracted, I want payment. Nobody will accept FIDIC [form of construction contract], which says that if you increase the scope by 20 per cent, the contract can be renegotiated.

"Construction clients and governments should only contract out when they are sure they have financial support. If there is no money, they cancel the project. So I think that is a norm of procurement that must change.

"Also, the construction contractor must demand proof of the financial capability of the project owner. Governments in the region are becoming more transparent and will need to be more transparent."
30 July, 2017 | .By RICHARD THOMPSON