EXCLUSIVE: GCC contract awards rebound in first half of 2017
09 June, 2017 | By COLIN FOREMAN
Total value of awards improves from low in the second half of 2016
GCC contract awards rebounded during the first half of this year from the four-year low recorded in the second half of 2016.
According to data from regional projects tracker MEED Projects, the total value of contracts awards in the GCC across all sectors during the first half of 2017 was $55.8bn, up 14 per cent on the $47.9bn that was awarded during the second half of last year.
The performance in the first half of this year may not signal a recovery. When compared to the same period of last year the total is down more than 20 per cent.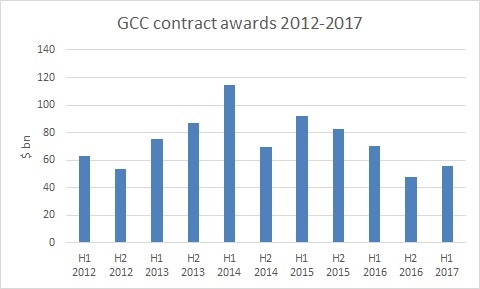 The largest award during the first half of this year was for the estimated $2.9bn contract secured by a joint venture of Turkey's IC Ictas and the local Al-Rashid Trading & Contracting to redevelop four existing terminals at the King Khaled International Airport in Riyadh.
Other $1bn-plus contract awards were for the third phase of the Yanbu Power Plant in Saudi Arabia, Gathering Centre 32 in Kuwait, Sweihan Solar Power Plant in Abu Dhabi. Deira Mall in Dubai, and Transmission works in Qatar.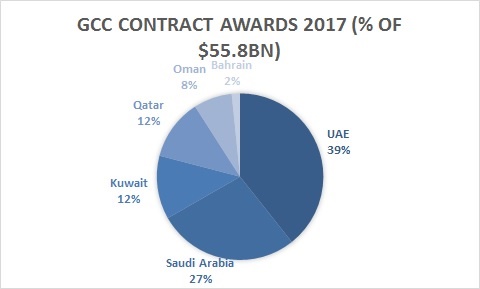 By geography, the UAE was the most active country by far accounting for 39 per cent of the GCC total with almost $22bn of awards. The second largest market, with 27 per cent of the total is Saudi Arabia. Kuwait and Qatar both have 12 per cent, Oman has 8 per cent, and Bahrain has 2 per cent.
By sector, the most active was construction with nearly $24bn of awards or 43 per cent of the total. Transport was the second most active sector with 21 per cent, followed by power at 15 per cent, oil at 8 per cent, water at 4 per cent, and chemical, gas and industrial each at 3 per cent.
Project
Country
Value ($m)
Client
Contractor
King Khalid International Airport: Terminals upgrade
Saudi Arabia
2,900
Gaca
Al Rashid/IC Ictas JV
Yanbu Power Plant Phase 3
Saudi Arabia
2,000
SWCC/Marafiq
SEPCO III Electric Power Construction Corporation
Gathering Centre 32
Kuwait
1,300
KOC
Petrofac
Sweihan Solar IPP
UAE
1,200
ADWEA
Sterling & Wilson
Deira Mall
UAE
1,143
Nakheel
United Engineering Construction
Qatar Transmission Phase 13: Cables
Qatar
1,040
Kahramaa
One Zabeel
UAE
950
ICD
ALEC
Ruwais Refinery Restoration
UAE
950
Takreer
GS Engineering & Construction
Qatar Transmission Phase 13: Substations
Qatar
835
Kahramaa
Siemens
Taif International Airport
Saudi Arabia
800
Gaca
Consolidated Contractors Company/Munich Airport International / Asyad Group JV
Al-Bustan Street North
Qatar
774
Ashghal
Consolidated Contractors/Teyseer Contracting JV
Source: MEED Projects
09 June, 2017 | .By COLIN FOREMAN