Future of region's aviation sector still up in the air
07 June, 2020 | By NEHA BHATIA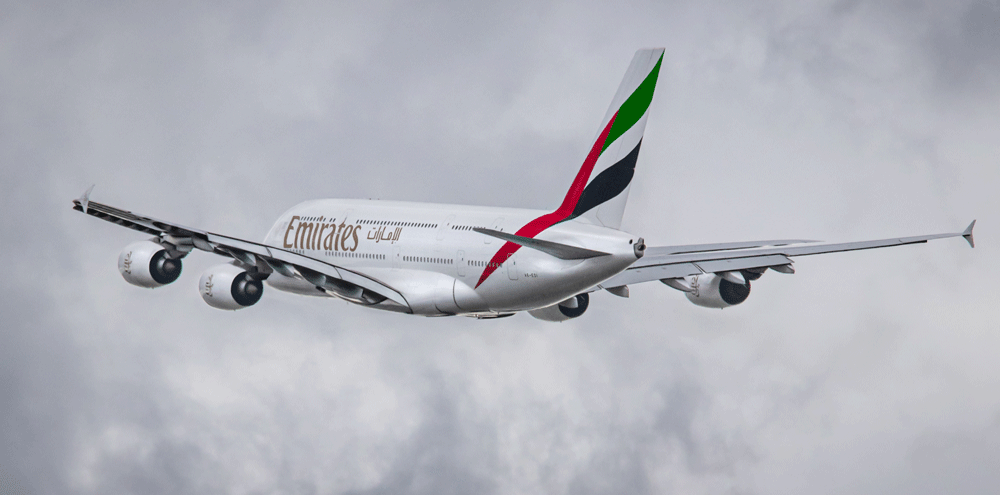 Regional airline carriers can expect a slow and painful post-pandemic recovery
The Covid-19 pandemic has had a significant impact on the dynamics of the GCC's aviation industry since March 2020, but further changes are likely in the sector as the direct impact and ripple effects of the outbreak are expected to continue at least until the middle of 2021.
Border closures and travel bans imposed to limit the spread of the virus have dragged aviation businesses into a state of uncertainty, prompting severe spending cuts at regional airlines.
Dubai flag carrier Emirates announced salary reductions and paid and unpaid leave for the majority of its 105,730 employees in March. Abu Dhabi-backed Etihad Airways and Oman Air have introduced similar measures.
Job losses across key economic sectors will particularly impact the UAE, which is home to two of the Gulf's three biggest super-connectors, and where expatriates make up approximately 85 per cent of the population.
A reduction in the number of foreign workers could significantly impact spending on personal and business flights to and from the country.
Global government decisions on border re-openings will be crucial for flag carriers Emirates and Etihad, which rely heavily on medium- to long-haul operations. Their business model presents different challenges from those faced in international markets such as the US and Europe, where a significant portion of revenue comes from domestic travel, which is likely to resume before international routes in the wake of the pandemic.
New skies
While it is a business shock of unprecedented magnitude, Covid-19 is only the latest in a string of disruptors that have impacted the operations of regional airlines in 2020.
The political upheaval in Hong Kong, bushfires in Australia and the shooting down of a Ukraine International Airlines flight in January all led to air space and flight operation disruptions, Tony Douglas, group CEO of Etihad Airways Group, said during a US-UAE Business Council briefing call in late April.
"2020 very quickly became a challenging year in the extreme," he added.
Aviation analyst John Strickland of JLS Consulting says the Gulf's airlines were facing operational hiccups even before the pandemic started, and encountered softer demand relative to capacity last year.
Covid-19 could accelerate some essential operational shifts for these businesses, he tells MEED, adding: "The scale of operation in the Gulf could be reduced. We are likely to see some of the capacity that has been taken out staying that way, and routes and networks changing at some airlines."
Consolidation opportunities may be revisited in the GCC as regional carriers encounter post-pandemic financial uncertainty. Strickland says the Gulf market has yet to experience consolidation on the same level as in Europe or the US, but Covid-19 could be a catalyst to reducing fragmentation in the regional industry, "not least because the financial weight of this virus is so great".
The challenges to privatising aviation in the region, particularly in Saudi Arabia, could also spur greater consolidation in the sector.
"It is widely considered that Emirates is among the world's best-managed and most profitable airlines," CEO of Nomura Asset Management Middle East, Tarek Fadallah, tells MEED.
"One idea for the brave new world into which we might emerge is for Emirates to merge with some of its sub-scale regional players – Gulf Air or Oman Air, for example.
"Saudia has also struggled for a long time and a proposed privatisation that has been in the pipeline for many years is now unlikely to materialise any time soon."
Revenue at risk
In the meantime, the GCC aviation industry will have to face up to the unprecedented levels of non-activity and loss as the travel restrictions related to Covid-19 continue.
In the UAE, $6.8bn-worth of airline revenue is at risk due to Covid-19, with $23.2bn of GDP contribution losses expected in the country, the International Air Transport Association (IATA) said on 23 April.
In Saudi Arabia, the airline revenue figure is higher, at $7.2bn, but the overall impact on GDP is slightly less, at $17.9bn, due to the ability of domestic travel to continue by road and rail.
The UAE and Saudi markets are expected to see passenger number reductions for the year of 31 million and 35 million, respectively. Across the two markets, IATA estimates that more than 650,000 jobs are potentially at risk.
The rest of the GCC states, excluding Bahrain, could record 14.3 million fewer passengers in 2020, leading to revenue losses of about $3.4bn and a reduction of approximately $6.1bn in economic contributions.
Beyond the GCC region, key aviation markets include Egypt, Morocco and Iran. The combined revenue loss in these markets is estimated at $5.7bn, with 32.7 million fewer passengers and a total GDP impact of $12.5bn.
The socioeconomic impact will potentially be more wide-reaching, however, with close to 1 million potential
job losses.
Long-term losses
Emirates meanwhile has received close to 500,000 refund requests pending from its customers as of 26 April, and the airline has had to restructure its back-end procedures just to accommodate the level of processing that this has required.
The financial impact of these refunds has long-term implications, and Emirates president Tim Clark said the airline was "dipping into" its cash reserves to process refunds.
The Gulf's largest airlines are all state-owned, which puts them in an advantageous position to secure government-led financial assistance.
However, IATA's regional vice-president for Africa and the Middle East, Muhammad al-Bakri, said on 23 April that while the UAE was one of several exceptions, not all governments in the Middle East and North Africa region had adequately responded to the "economic catastrophe" that has unfolded in the aviation sector as a result of the coronavirus pandemic.
He added: "Airlines in the Middle East continue to be battered by the impact of Covid-19.
"No amount of cost cutting will save airlines from a liquidity crisis.
"The collapse of air transport will have devastating effects on economies and jobs, and in a region where aviation is a key pillar of many nations' economies, the effect will be much worse."
On 13 May, IATA called for "aviation-specific financial relief measures" from Saudi Arabia, where the aviation sector is exposed to the largest projected revenue losses in the region, at $7.2bn.
"Without a viable air transport sector, we can expect a slow and painful economic recovery," Al-Bakri said.
"Before the crisis, Saudi Arabia was moving at full speed and achieving tangible results in modernisation, infrastructure development and economic growth. Fully supporting aviation now means a stronger recovery for the kingdom."
Recovery estimates
Commercial aerospace could be facing a "lost decade" for passenger growth as the industry struggles with the disruption caused by the Covid-19 pandemic, as outlined in MEED's April 2020 sector analysis report on aerospace, defence and security. Emirates, Etihad and IATA all agree that it could take until 2023 for passenger demand to return to pre-pandemic levels.
Emirates' operational readiness programmes will allow the airline to resume service on 48 hours' notice, but as Clark noted, reopening routes is a bilateral issue and relies on governments around the world facing up to the "unenviable" task of striking the right balance between restarting their economies and mitigating the biosecurity risks of Covid-19.
Global economic conditions could also result in a recessionary trend that could last "until the back-end of next year", Clark added during the recent US-UAE Business Council briefing.
"We have a tough 18 months coming up. For some sectors, it will be longer, and others will say demand for air travel will come back in two or three years," said Clark.
"But how will passengers fly, and will we have spacing on airplanes? How will airports cope with people entering until we get a vaccine, and how are the transit operations going to work? These are the vexing questions that states are going to have to answer."
07 June, 2020 | .By NEHA BHATIA