Gulf Projects Index continues to decline
02 July, 2020 | By NEHA BHATIA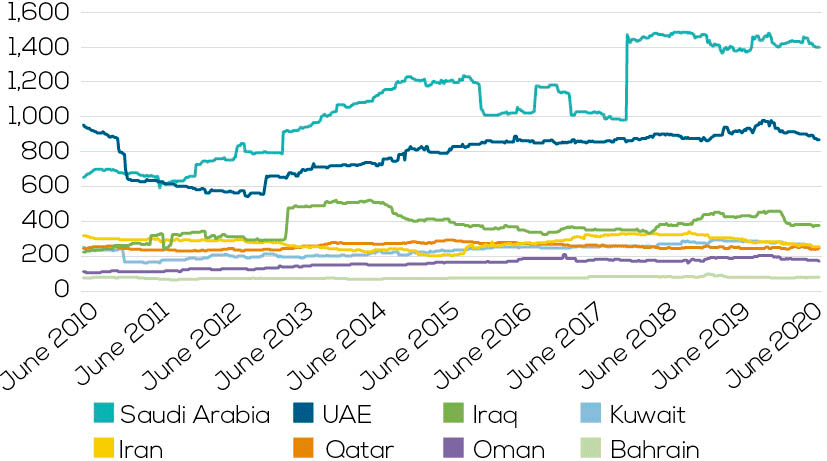 Six of eight tracked regional markets note downward movement amid tightened cash flow
Data shows value of projects planned or under way ($bn)
---
Six of eight markets tracked by the Gulf Projects Index noted declines between 15 May and 12 June as the Covid-19 pandemic and oil price uncertainties caused regional liquidity conditions to further deteriorate.
The total value of the Gulf projects market dropped by 0.72 per cent, from $3.65tn on 15 May to $3.62tn on 12 June.
A slightly greater decline of 0.91 per cent was recorded in the GCC states during the period.
The UAE's projects market experienced the worst decline in the GCC between 15 May and 12 June, falling by 2.75 per cent during the period to reach a value of $869.6bn.
Oman's projects market also dropped by 2.14 per cent to $174.7bn during the period.
Saudi Arabia, Bahrain and Kuwait declined by 0.65 per cent, 0.82 per cent and 0.23 per cent, respectively, in the four weeks to 12 June.
Qatar and Iraq displayed resilience during the four-week period, marking upward movement of 4.36 per cent and 0.67 per cent, respectively.
The Qatari market expanded on the back of the North Field South (NFS) development by Qatargas. MEED has revised upward the budget for Qatar's North Field liquefied natural gas programme, with the under-study NFS worth about $12bn.
Infrastructure focus
Private sector spending is expected to decline in the months ahead as Covid-19 tightens cash flow in the Gulf.
Government spending cuts have also been announced in the region since April, but it is understood that social infrastructure projects will be prioritised as countries seek to recover from the pandemic's economic impact.
Last month, Oman formalised an agreement with Sarooj Construction Company for the Dibba fishing jetty project under a $104m contract.
MEED understands Sarooj was confirmed for the project in late 2019, before the Covid-19 pandemic spread in the Middle East.
In June, Chinese oil field services firm Zhongyuan Petroleum Engineering Company announced winning a $300m-plus contract to provide drilling services in Saudi Arabia.
The sub-contract is understood to have been awarded by China's Sinopec and US oil field services major Halliburton.
Oil and gas activity also appeared stable in the UAE last month. Abu Dhabi National Oil Company (Adnoc) awarded KBR a project management consultancy contract for the Bab-Habshan onshore gas project.
02 July, 2020 | .By NEHA BHATIA