Healthcare market assessment of Egypt
04 February, 2022 | By Mashreq in Knowledge Partnership with JLL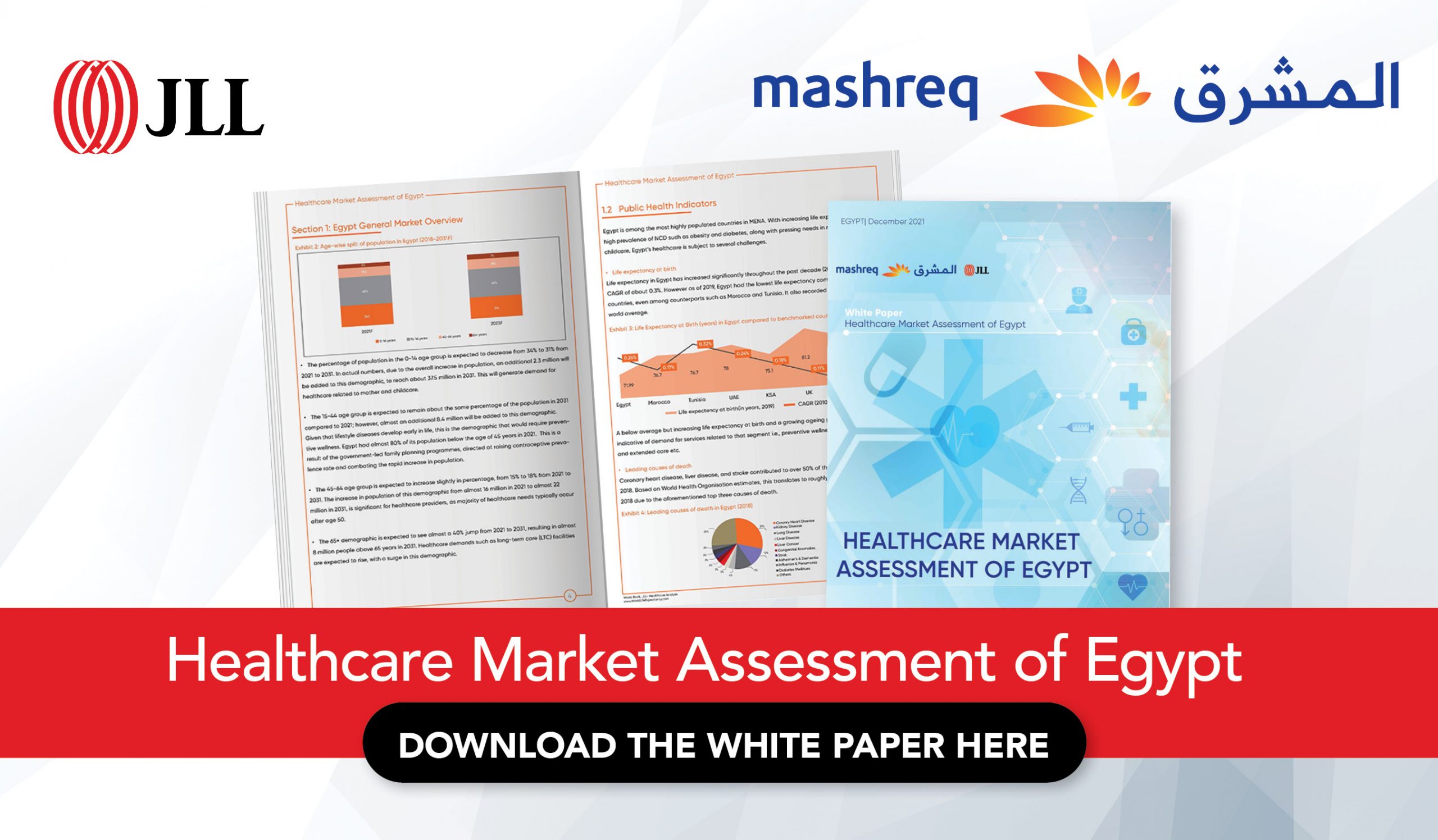 Egypt is one of the most populous countries in the GCCE, with a growing economy.
Combined with factors such as increasing life expectancy, growing prevalence of non-communicable diseases (NCD) and a chronic shortage of medical professionals, the burden on the healthcare system is expected to rise.
This latest Mashreq white paper developed in partnership with JLL presents key demand drivers of healthcare in Egypt focusing on:
Population
Public Health
Resources
And further offers an overview of the healthcare delivery market.
Main takeaways include:
In Egypt, majority of upcoming healthcare projects are focused on the general multi-speciality segment with a few projects offering specialised care in Cardiac sciences, Oncology, Paediatrics etc. Currently, emerging formats like day care surgery centres and extended care have reached low maturity and are lagging behind other regions.
The healthcare industry is likely to face significant headwinds in the short to medium terms due to the impact of COVID-19. Key measures have been undertaken by various players to comply with Government guidelines and enhance patient safety and compliance.
The private healthcare sector in Egypt continues to be under-penetrated and fragmented, providing an opportunity for private hospitals to capitalise on current market conditions and address current market demand. Egypt's healthcare market offers attractive market opportunities for existing players and potential investors looking to expand their market share, build a widespread client base, differentiate themselves from their competitors, and diversify their portfolios.
Investors must consider their overall investment strategy, institutional capacity, and market factors relevant to each sub-market before investing. Overall, the gradual evolution of the Egypt's healthcare delivery will result in improvement in patient care and access.
04 February, 2022 | .By Mashreq in Knowledge Partnership with JLL