Leading the transition to renewable energy
31 October, 2019 | By Andrew Roscoe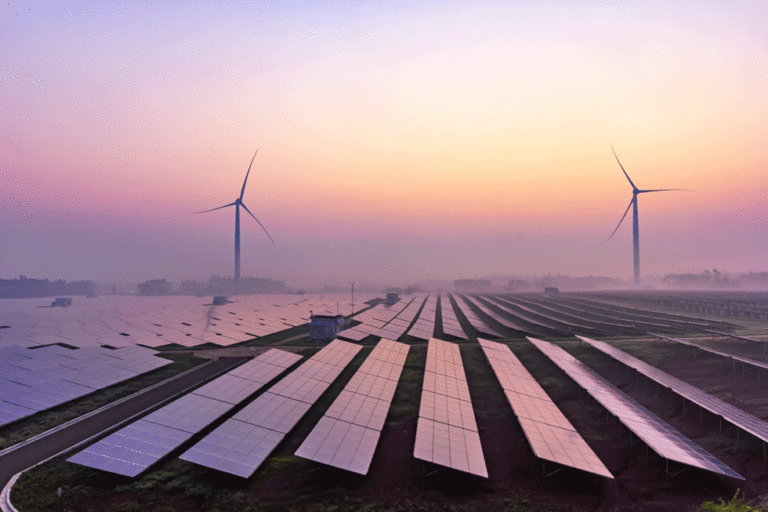 Acwa Power's Paddy Padmanathan explains how the firm is driving the development of alternative energy
Another milestone in the global transition towards renewable energy was reached on 9 October with the submission of record tariffs for the fifth phase of Dubai's Mohammed bin Rashid (MBR) solar park, marking the fifth time in less than five years that a GCC project has broken the world record for unsubsidised solar power.
Three of these records have been set by Saudi Arabia's Acwa Power, a growing regional force that is driving forward the development of clean energy across the Arab world and beyond.
The developer's bid of $cents 1.652 a kilowatt hour ($c/kWh) for the latest major solar project in Dubai is significantly lower than any other tariff achieved under a competitive tendering process anywhere in the world, and is the latest example of how utilities in the Middle East are launching some of the most ambitious renewable energy programmes globally.
Region in transition
Speaking to MEED shortly before the bid submission for MBR, Acwa Power's CEO and president Paddy Padmanathan said the region's transition towards alternative and cleaner forms of energy is well under way.
"While the Middle East is at a very early stage of the transition, it has now fully embraced the value proposition of renewable energy. New renewables capacity is being deployed at a very fast pace, not just in one country but across the region."
From its inception in 2004, Acwa Power has emerged as the largest developer of power and desalination projects in the Middle East and North Africa, ousting international competitors such as France's Engie along the way. The developer's ability to win work across various technologies and fuel platforms has been crucial to its success, while its aptitude for achieving seemingly impossible tariffs for renewable energy projects stands it in good stead for future work.
Having adapted to new technologies, the group now plans to extend its geographic reach. "Our goal is to expand our platform – responding to the countries that seek more capacity, broadening the geography. Historically, we have tried to have a 50:50 split in terms of capital and returns, in our home market of Saudi Arabia and outside," Padmanathan says.
"But Saudi Arabia is now giving us so much opportunity that no other country can match it. Today, we have assets in 12 countries and we see ourselves growing to 42 countries over the coming decades. We are tendering in five new countries in addition to the countries where we are already developing projects."
The new markets targeted include Tunisia, Ethiopia and several Asian countries, including Cambodia and Vietnam. The developer also recently submitted a proposal for a utility-scale photovoltaic (PV) solar project in Uzbekistan.
Different models
With emerging markets in Africa and Asia set to offer further opportunities for the Saudi developer, Acwa Power will be able to tap new sources of finance to support its growing project portfolio. "We have moved beyond the well-established, high credit-worthy markets, and have moved into markets that require credit support and credit enhancement beyond sovereign support," says Padmanathan.
In addition to increased levels of financing from bilateral and multilateral development agencies, international financial institutions are offering new ways of enhancing credit and protecting against political risk.
"The Multilateral Investment Guarantee Agency (MIGA) of the World Bank has traditionally covered investors' equity, but we have completed two innovative transactions where we used MIGA cover for debt, says Padmanathan.
"In Jordan, for example, commercial banks have lent on the back of MIGA cover, and we expect to see more innovation in project financing as the world continues to absorb more money into the energy sector. We are looking to broaden the pool of liquidity all the time."
One way of building its equity is through an initial public offering (IPO), something that has been under consideration for several years.
"We are absolutely committed to an IPO," says the CEO.
"We are a rapidly growing company and, ultimately, listing will give us a new currency – the public as partners. It is necessary for our future growth."
The IPO can be expected "sooner rather than later", Padmanathan says when pressed about the timeline. "We are in the phase of bringing in institutional shareholders. We will complete that, then we will go to the public straight after. We appointed banks a while ago – we have not cancelled and we will go forward as quickly as we can."
One institutional investor that has significantly stepped up its interest in Acwa Power in the past couple of years is Public Investment Fund (PIF), Saudi Arabia's sovereign wealth entity. In July 2018, PIF increased its holding in the energy company, taking its direct and indirect holding to almost 25 per cent, with reports that the investment fund may further increase its holding in the future.
Padmanathan says the increase in state investment has brought a number of benefits to Acwa Power's rapid expansion.
"It gives confidence to those who give finance to us, who partner with us and entrust us with 25-year obligations," he says. "They bring the ability to inject new funds – it is easier for them to invest as co-investors in some of the larger projects we do." 
New ground
While Padmanathan asserts that Acwa Power will remain focused on developing power generation and desalination assets, he says there may be opportunities to develop associated infrastructure for transmission and fuel supplies in the future.
"We may move into transmission, as part of developing power generation assets, if required. We can bundle transmission lines in with the generation asset. In Turkey, we already have a 70-kilometre power line connecting our plant to the grid that was developed as part of our project," the CEO says.
The region's growing reliance on gas for power generation may also offer new opportunities for the developer.
"I can see us getting involved in gas, in LNG [liquefied natural gas]," adds the CEO. "We are looking at some opportunities for gas to power – which will require us to not only look at the power plant but also the infrastructure bringing the LNG to a port, to either floating or fixed LNG terminals or though pipelines."
31 October, 2019 | .By Andrew Roscoe