Live Broadcast: Renegotiating construction contracts
27 April, 2020 | By Richard Thompson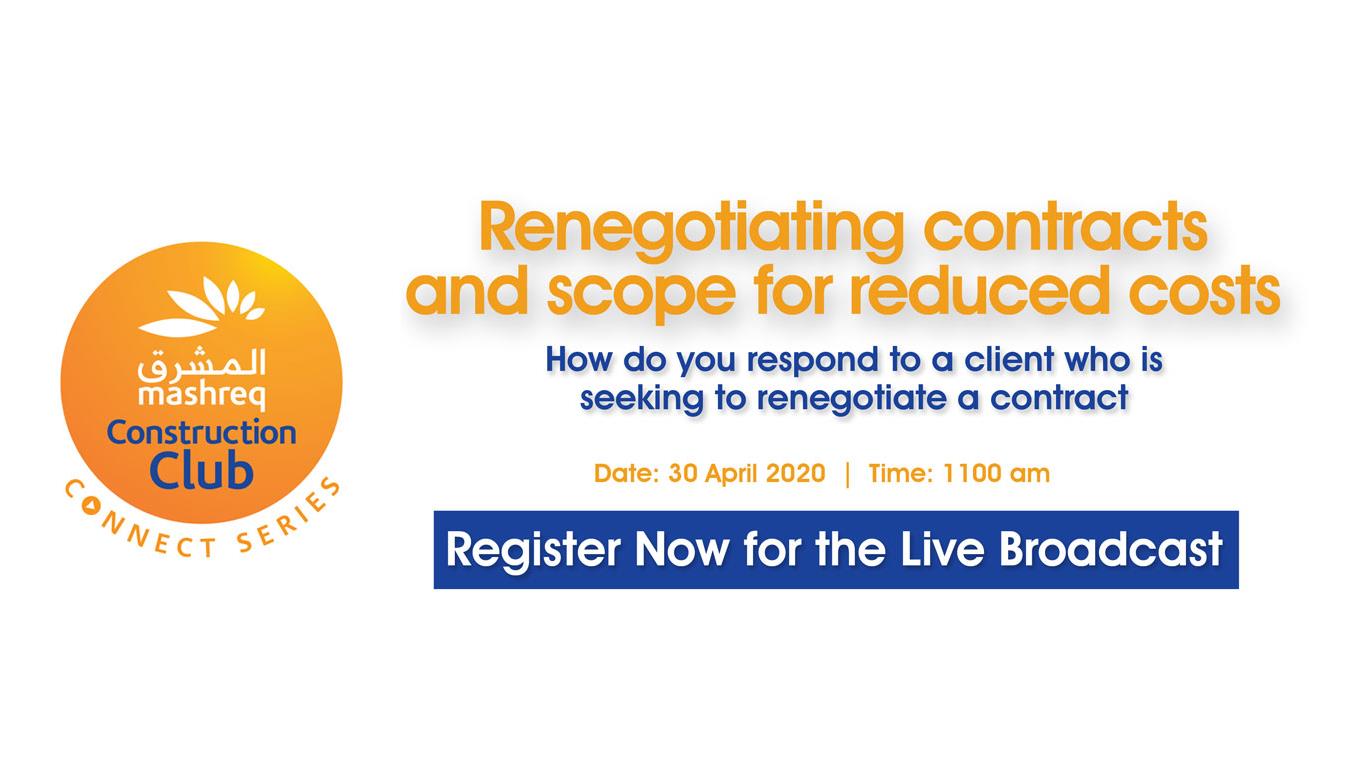 The second Mashreq Construction Club Connect Series webinar will discuss the options for contractors and suppliers whose clients want to renegotiate construction contracts
The impact of the coronavirus (Covid-19) pandemic on the construction sector is now making itself widely known.
As governments divert spending to healthcare, and private developers face up to falls in revenues, many project paymasters want to renegotiate construction contracts to force their contractors to deliver the same work for less money.
The Mashreq Construction Club Connect Series will hold its second webinar on 30 April (11am UAE time), discussing options for contractors and suppliers whose clients want to renegotiate construction contracts.
Renegotiating contracts and the scope for reduced costs will examine how contractors and suppliers can respond to a client that is seeking to renegotiate a contract and what the consequences of those options might be.
After five challenging years in which contractors have faced constant pressure to reduce their cost, how much latitude is there to renegotiate contracts and push prices lower?
With expert insights from DLA Piper construction partner Suzannah Newboult, and Christopher Seymour, Royal Institution for Chartered Surveyors (RICS) Market Advisory Panel Chair – Middle East and North Africa (Mena), and managing director of Mott MacDonald Middle East, the webinar will discuss scenarios such as:
How do you respond to a client who is seeking to renegotiate a contract?
Are you contractually obliged to renegotiate?
What are the options available to you? And what are the legal consequences of these options?
Payment terms: What do the clauses refer to? (Interim payment for minimum amount etc.)
How much latitude is there in the market for cost cutting / renegotiating contracts?
Are there better ways to think about procurement, rather than simply cutting costs?
What would happen in the event of a second wave of Covid-19?
Panellists:
Suzannah Newboult, Partner, DLA Piper
Christopher Seymour, RICS Market Advisory Panel Chair – Middle East and North Africa (MENA)
Mohammad Al Shouli, Executive Vice President, Global Head of Contracting Finance,
Mashreq Bank
Collin Foreman, Deputy Editor, MEED
Moderator:
Richard Thompson, Editorial Director, MEED
---
27 April, 2020 | .By Richard Thompson