New projects enter Kuwait's stagnant building market
09 May, 2019 | By Colin Foreman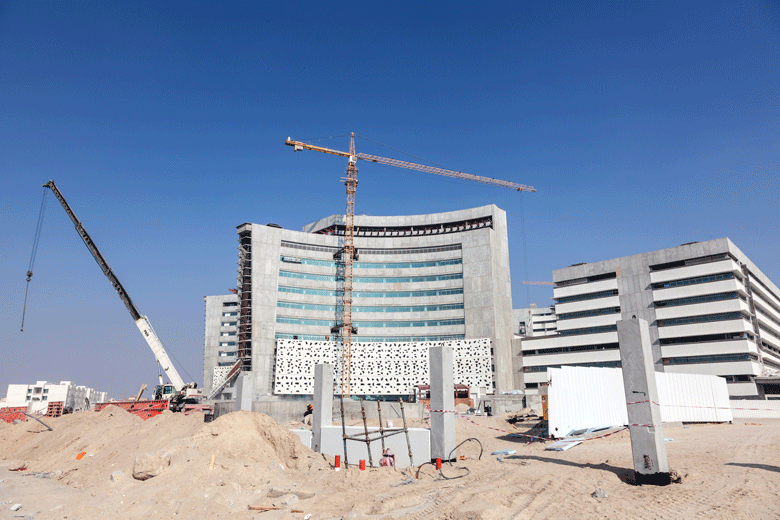 Public sector projects are driving growth, with the most notable progress being made on housing schemes
Contractors working in Kuwait are hoping for the green shoots of recovery in 2019. "There is work going on, and it feels like there is now a drive from the government to develop new projects, and also support the construction sector," says an international contractor.
Support is needed. Kuwait's construction market has performed poorly over the past five years, with less work being awarded than completed. According to regional projects tracker MEED Projects, there were $6.6bn of contract awards in Kuwait in 2014 before lower oil prices and reduced project spending.
Since then the total value of awards has dropped to a bottom of $1.5bn in 2017 before recovering to $3.3bn in 2018.
As less work is awarded, existing projects are completed. Back in 2015, there were $1bn of deals completed meaning there was a net gain for the construction sector of about $5.5bn.
The net gain then dropped in 2015, but still remained positive at $1.6bn, before turning negative in 2016 with a drop of $2.8bn. The number has remained negative since, with a drop of $1.5bn in 2017 and $1.8bn in 2018.
Skewed sector
The negative results mean that taken as a whole, the construction sector is not providing companies working in Kuwait with enough new orders to replace the work that is being completed.
The numbers will take time to turn positive. Although the total value of awards nearly doubled in 2018 when compared with 2017, the net gain was still negative because there were more than $5bn of contracts completed. Such a high value for completions reflects the high value of awards four years earlier in 2014.
Consultants are already saying there are new projects, but caution the challenge is predicting the pipeline. When compared with other GCC markets such as the UAE and Saudi Arabia, Kuwait is still a small market, and is traditionally buoyed by a handful of major building projects that, in the past, have included universities, hospitals and corporate headquarters.
"There are quite a few major new projects in the early stages of development," says a local consultant. "The problem is projects at this stage behave very erratically. Politics and government approvals are often an issue, and this delays progress, so I would say that while on the whole there is work coming through, it is difficult to know when projects will proceed."
Construction progress
Despite the unpredictable nature of the market, some projects are moving into the construction phase. The public sector is dominating the market in 2019 as the private sector real estate market remains challenged – it has been reported that there are up to 50,000 apartments standing empty in Kuwait as expatriates leave the country.
The most notable progress is on housing projects, with the Public Authority for Housing Welfare (PAHW) awarding a string of contracts for the early stages of its new housing projects.
In January this year, China's Sinohydro was awarded a $224m deal for infrastructure work, and, at the end of 2018, the local United Building Company (UBC) secured a $246m contract to build 40 apartment buildings at the Sabah al-Ahmed City housing project. The new city is being developed on a 40-square-kilometre site and, when completed, will have 2,000 villas and a similar number of apartments, as well as 52 schools and 70 mosques.
In February, PAHW awarded Turkey's Limak the deal to execute an infrastructure package for the South Abdullah al-Mubarak project. The contract entails the construction, completion and maintenance of a roads and infrastructure network for 3,260 plots as well as electrical substations.
These two projects join the under-construction South al-Mutlaa City, located on a104-sq-km area in Kuwait's Jahra governorate.
PAHW has awarded several infrastructure packages on the project to contractors including Turkey's Polat Insaat and Cengiz Insaat, as well as China Gezhouba Corporation.
PPP projects
Looking further ahead for housing, Kuwait plans to hand over the baton to the private sector. This year, PAHW has tendered four public-private partnership (PPP) projects at the Jaber al-Ahmed and Sabah al-Ahmed cities.The selected bidders will design, finance, construct, operate, manage and maintain the schemes.
The investment period for each of the Jaber al-Ahmed city projects will extend over 25 years, while the investment period for the Sabah al-Ahmed city integrated residential and industrial packages will extend 40 years and 30 years respectively.
Another major new scheme that is advancing is the redevelopment of Al-Ahmadi City, which is a 10-year project being delivered by state-owned Kuwait Oil Company (KOC).
Construction work on the original city began in 1949, and since then it has been the base for much of Kuwait's oil sector, and is home to KOC's headquarters
The overall redevelopment of the city includes building more than 1,800 homes with associated utilities and infrastructure, and this year construction companies have been invited to bid for work on phase two of the project.
Foreign investment
Another long-term scheme could move forward with Chinese investment. Last year, the governments of Kuwait and China signed a memorandum of understanding to co-invest in the development of Silk City and five northern islands.
The longstanding $86bn Silk City has been on hold for many years. When launched in 2006, it was envisaged as Kuwait's new economic and commercial hub located in the Subiya Peninsula across the bay of Kuwait.
If the project goes ahead, the details of the final agreement will be crucial for the future health of Kuwait's construction sector.
The concern for the local market is that Chinese investment could mean Chinese companies are likely to be in a leading position to deliver the bulk of the construction work, at the expense of local contractors and suppliers.
09 May, 2019 | .By Colin Foreman