Planning for a year of transition in construction
11 June, 2019 | By Colin Foreman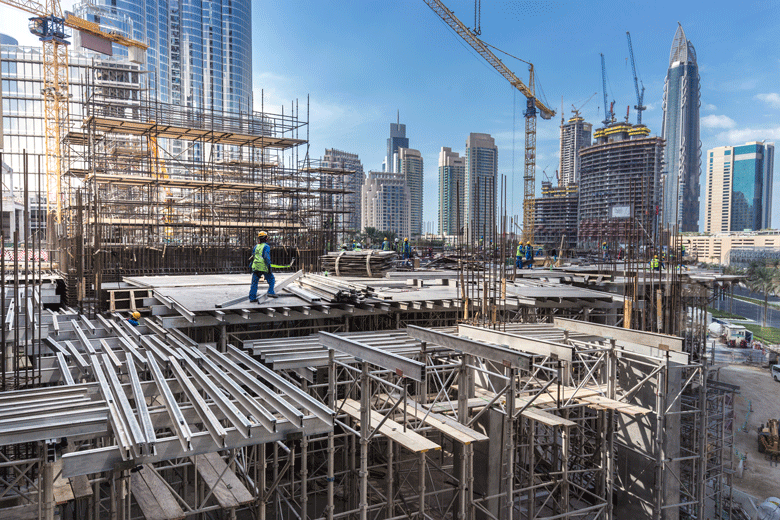 The region's construction sector is undergoing great change, as contractors shift their focus to exploring new sectors and geographies
After five years of being propped up by projects in Dubai, the region's construction market is once again in a state of flux as existing projects are completed and new investment cycles start to create new opportunities in different sectors and geographies.
"I keep calling 2019 a year of positioning and transitioning," says president of engineering and construction at Consolidated Contractors Company (CCC), Samer Khoury. "We have to prepare for a surge in oil and gas jobs, so as a company we have to retrain our people and make internal adjustments so that we are ready for the future projects."
One of the key changes is the outlook for project activity in Dubai. During the five years following the 2014 drop in oil prices, it has been difficult to understate the emirate's importance for the regional construction industry. Shielded from the impact of lower oil prices and the resultant drop in government budgets, Dubai has been able to press ahead with a range of projects – most notably infrastructure supporting Expo 2020 and new building work for government-related and private sector property developers.
Leading the region
Since June 2014, Dubai – with a population of 3.2 million – has accounted for 26 per cent, or $97bn, of the $359bn-worth of construction and transport contracts awarded in the GCC, according to data from regional projects tracker MEED Projects.
The work generated has created a safe haven for contractors. As markets such as Saudi Arabia and Abu Dhabi slowed down sharply, firms from across the region that were struggling to find work in their domestic markets competed fiercely for contracts to build roads, ports, towers, hotels, shopping malls, villas and apartment buildings in Dubai.
For example, in January 2018, a joint venture of local developer Nakheel and Spain's RIU Hotels & Resorts awarded Saudi Binladin Group a $105m contract for the construction of an 800-room beachfront resort and water park at Deira Islands. And at the end of 2018, Abu Dhabi-based Trojan General Contracting started work on the contract to build the 17 Icon Bay project for Emaar Properties at its Dubai Creek Harbour development.
All good things come to an end, however, and although Dubai has continued to award contracts in 2019, the market has begun to tail off. For the fourth quarter of 2018, the total value of construction and transport awards fell to $2.068bn, its lowest level since the fourth quarter of 2012, when Dubai was just starting to emerge from the fallout of the 2008 global financial crisis.
Challenges persist
To make matters worse for construction companies, the total value of work being completed is edging up. In the fourth quarter of 2018, a total of $3.7bn-worth of construction and transport contracts were completed, meaning the market has downsized, with a net loss of $1.6bn.
For the first quarter of this year, there was a net gain in the value of work, with $3.3bn of awards and $3bn of contracts completed. This delivered a net gain of about $300m during the quarter.
While this is a return to positive growth, the expectation is that the market will continue to oscillate around zero for the foreseeable future. "There has been a lot work going on in Dubai, but it has not been good work," says a regional contractor working in Dubai. "I say that, because margins have been driven down, and that is a key difference between 2019 and 2009. In 2009, we were coming off the back of five great years, then projects stopped. Today, it is five difficult years before the slowdown."
Real estate weakness
The lacklustre performance of the property market is the reason for the slowdown in new contract awards. According to Cavendish Maxwell's House Price Index, the average annual house price in Dubai decreased by 13.2 per cent in April 2019 when compared to April 2018. Month-on-month, the price decline for April was 1.5 per cent compared to 1.7 per cent in March.
The office market is also challenged. Property consultant Savills in its Q1 2019 Dubai Office Market report noted that there was a drop in rental rates in most areas of Dubai during the first quarter. The worst-performing area was Dubai Science Park, with an 11.3 per cent drop in rents. The only area where rents increased was Dubai Design District, where there was an increase of 13.8 per cent.
In addition to not moving forward with new projects, property owners are competing more aggressively for tenants. This is in stark contrast to previous years, when Dubai's office market was expanding to accommodate tenants' growing operations. Today, the demand is driven by consolidation, as companies streamline their businesses so that they are able to remain profitable in the face of challenging market conditions.
From boom to bust: Construction activity in the GCC fell in 2018 as the value of projects completed overtook the value of new contract awards for the first time in five years. Click here to expand the infographic

Flagship projects
Away from pure real estate plays, other major projects are also struggling to move forward. The most high-profile example of this came in February when DXB Entertainments said that the AED2.6bn ($710m) Six Flags theme park it was planning to build at Dubai Parks & Resorts would not proceed after a syndicated finance facility for the project was withdrawn.
Indirectly addressing the concerns about future landmark projects, the emirate's leadership has signalled that it will continue to drive ahead with new projects. Most recently, UAE Vice President, Prime Minister and Ruler of Dubai, Sheikh Mohammed bin Rashid al-Maktoum, said that Dubai will continue to launch iconic projects.
In a post on Twitter on 1 April, from the opening of the Dubai Arena project, Sheikh Mohammed said: "We launched Dubai Arena, the largest indoor venue in the Middle East. We will keep launching new iconic landmarks and projects, and will continue to cement our position as a global destination for tourism, events, trade and knowledge-based economy."
In another tweet commenting on US-based Uber Technologies agreeing to acquire Dubai-headquartered ride-hailing company Careem for $3.1bn, Sheikh Mohammed referred to the long-term nature of Dubai's projects and their ability to weather concerns about oversupply.
"In 1999, many people questioned our idea to establish Dubai Internet City in the desert. Two years ago, Amazon acquired the multibillion-dirham Souq.com and today, Uber acquired Careem for AED11bn. These giant companies flourished from the 'desert' of Dubai."
Dubai is also launching new projects, and Sheikh Mohammed's comments follow the announcement of Dubai International Financial Centre (DIFC) 2.0 on 7 January and Downtown Jumeira with the 550-metre-tall Burj Jumeira a few weeks later on 31 January. While these projects did help to boost confidence, they are not expected to result in immediate opportunities for construction companies.
Ongoing activity
Despite the concerns of a slowdown, there are contracts being tendered and awarded. In late April, the Roads & Transport Authority (RTA) awarded contracts for two road construction projects totalling nearly $400m, and Dubai Aviation Engineering Projects (DAEP) is tendering the estimated AED10bn substructure contract for Concourse 1 and the West Terminal building at Al-Maktoum International airport.
While new project launches and progress on major building projects such as Al-Maktoum International airport is positive, construction companies do not expect there to be enough work to replenish their order books. For contractors, the key leading indicator to track is the performance of consultants because they are appointed to work on projects ahead of a contractor.
Since late 2017, the large consultancy firms have said that there have been few new work opportunities in Dubai. Instead, they have chosen to focus on other sectors and geographies for business development. In terms of sectors, there has been a shift away from real estate towards infrastructure, utilities and oil and gas; and when it comes to geographies, Saudi Arabia has been the focus of attention, along with the much smaller Abu Dhabi market.
Tapping new markets
For oil and gas, low oil prices in 2015-17 meant a period of under investment and that is now starting to be addressed with new projects. As a result, construction firms that already work in the sector, such as CCC, are positive about the prospect for next year. "The market is improving," says Khoury. "It is not as fast as we want, but it is improving. There are more oil and gas jobs coming. We see that with Saudi Aramco and Abu Dhabi National Oil Company (Adnoc). In Kuwait, there is new work also.
"Oil and gas is the name of the game now. It is not going to happen tomorrow, but next year will be much better than this year," he says.
There will be competition. Sensing an opportunity, other companies that have traditionally been building and infrastructure contractors have entered the oil and gas market. "We have set up a dedicated oil and gas division," says a contractor based in Saudi Arabia's Eastern Province. "In the past, we have been a buildings and civil construction contractor, and it is not easy starting in a new sector. We have to find a joint venture partner to prequalify, but we think this is the way the market is going."
It is the vast spending plans announced by Saudi Aramco and Adnoc that are attracting contractors' interest. Aramco has said that it plans to raise its spending to $414bn over the next decade, while Adnoc has approved a capital expenditure budget of $132m for the next five years.
For geography, Abu Dhabi is pushing forward with projects outside of Adnoc's sphere of influence. In June 2018, Abu Dhabi Crown Prince Sheikh Mohamed bin Zayed al-Nahyan approved a $13bn stimulus programme that will include spending on new projects. So far, the projects that have moved ahead in the emirate include the next stages of the federal Etihad Rail network, cultural and leisure projects on Saadiyat Island and Yas Island, and a large-scale housing programme for local Abu Dhabi citizens.
While Abu Dhabi will be an opportunity for some, the greatest opportunity by far lies in Saudi Arabia. Since mid-2017, Riyadh has announced a raft of major projects that promise to transform the kingdom. These include the $500bn Neom development in the northwest, next to the border with Jordan (pictured on page 17); the Red Sea development (pictured above); Amala; Al-Ula; Qiddiya Entertainment City; and urban redevelopment schemes for Riyadh, Jeddah and Medina. These developments have made the Saudi projects market the region's largest by far.
Across all sectors, the kingdom now has $1.4tn of projects that are planned or under way, according to data from MEED Projects. The Saudi total far exceeds that of the UAE, which is the Gulf's second-largest projects market with $926bn of projects planned or under way across all sectors.
While a far greater percentage of the Saudi projects are at the early planning stages, consultants are starting to be engaged as schemes move towards the execution phase.
"Everyone in business development is on a plane to Saudi Arabia these days," says an international consultant working in Dubai. "After big announcements, the new projects are starting to get some traction."
Saudi prospects
Broadly speaking, the upcoming construction work in Saudi Arabia will come from two key areas. The first is construction work for government ministries and authorities, and the second is the Public Investment Fund (PIF) projects.
For the government projects, in recent years there has been a major overhaul in how the kingdom manages its capital expenditure. Each government body now has to establish a project management office (PMO) to oversee its projects, and consultants have been winning contracts to assist with the establishment of these entities. The problem is that the ability of ministries to proceed with major projects is hamstrung until these PMOs are formed.
Once ministries are in a position to proceed, the big decision will be the funding and procurement models used. Riyadh has placed great stock in public-private partnership (PPP) schemes in recent years and a wide range of schemes have been identified as possible PPP projects, across sectors such as rail, aviation, healthcare and education, in addition to the ongoing use of the PPP model for power and water projects.
The body driving the use of PPP is the National Centre for Privatisation, which in 2018 launched its Delivery Plan 2020, which sets out a wide-ranging privatisation programme for state assets, as well as the delivery of 14 PPP projects by 2020.
There is more of a sense of urgency for the PIF schemes, with consultants being appointed for both project management and design roles. For example, in March, US-headquartered Aecom won the project management consultant (PMC) contract for the first infrastructure package at Neom. The appointment came after Riyadh said earlier this year that the first phase of the $500bn megaproject will be completed on a fast-track basis by 2020, and several key facilities will be completed by the end of this year, including the ongoing upgrade to the existing airport at Sharma.
Other work is coming out to contractors for early infrastructure, utilities and enabling works. At the Red Sea development, construction companies have been pricing marine and enabling works packages, and firms have also been invited to prequalify for a PPP project to develop utilities and related infrastructure for the project.
While all these signs point towards an uptick in construction activity in Saudi Arabia in the future, the question for contractors is how quickly can these plans turn into active construction projects.
So far, the answer has not been quickly enough, with indicators of actual construction activity on site – such as cement demand, which continues to fall – suggesting that there is still some time to wait before the recovery is in full swing.
11 June, 2019 | .By Colin Foreman