Ras al-Khaimah carves out its identity
13 December, 2022 | By MEHAK SRIVASTAVA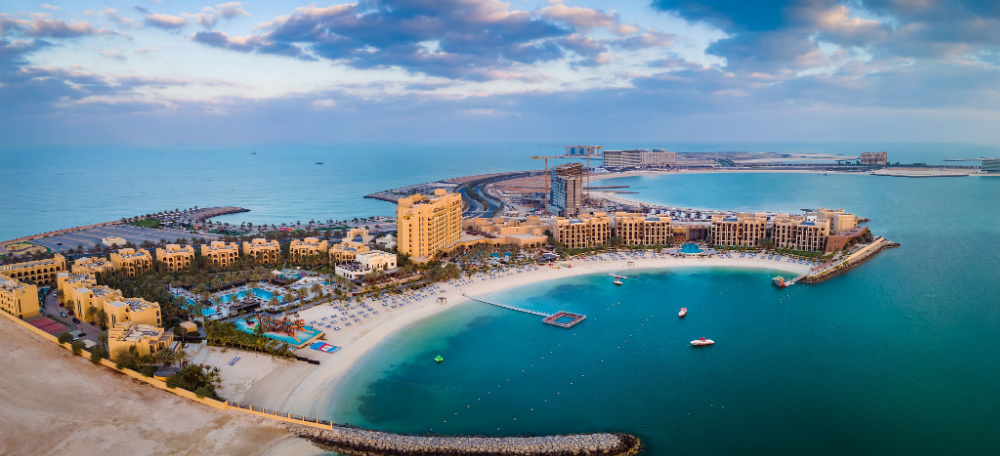 Real estate activity in the sector is helping the emirate emerge as an independent tourism and hospitality powerhouse
This article is the first in a series that captures key highlights from the RAK Real Estate Business Leaders Forum jointly held by MEED, Mashreq Bank and Stirling Hospitality Advisors on 28 October, discussing the trends shaping the way forward for the emirate's real estate sector. Participants at the closed-door event included stakeholders such as Marjan, Al-Hamra Group, RAK Properties and Abu Dhabi National Hotels (ADNH).
To say that the early 2022 launch announcement of the Wynn Resorts hotel development in Ras al-Khaimah took the market by surprise would be an understatement.
Not only was it the first foray by the US hotel giant into the region, but it also marked the first integrated gaming resort in the GCC.
Now, as the emirate seeks to capitalise on developing the multi-billion-dollar hotel project, it is looking to attract other investors into its real estate and tourism sectors.
With a series of other launches and acquisitions this year, it is clear that Ras al-Khaimah is looking to represent a destination of significant projects in its own right.
Domino effect
The market seems to agree. In the months since the Wynn announcement, Ras al-Khaimah's real estate sector has witnessed a significant volume of transactions. Data from the Ras al-Khaimah Municipality reveals that compared to H1 2021, overall real estate transactions expanded by 45 per cent in the first half of 2022.
In this period, the emirate recorded more than AED4bn ($1bn) worth of real estate transactions in the land and properties sector in this period. Sales volume constitutes AED1bn ($270m), followed by AED2bn ($540m) worth of mortgage contracts and AED370m ($100m) worth of waiver transactions.
The sector has been putting the foundation in place for several years now, evidenced by a raft of regulations and a steady ramp up of infrastructure capabilities.
Industry stakeholders, however, do not deny the 'domino effect' created by the Wynn project.
"Ras al-Khaimah's strength is its fully diversified economy with the leadership focused on promoting trade, tourism, hospitality, and manufacturing," said Abdulla al-Abdouli, CEO of Marjan, speaking at the Ras al-Khaimah Real Estate Business Leaders Forum on 28 October. "Over the years, the emirate has strengthened its reputation as an investment, hospitality, and tourism hub, attracting high-profile investments and featuring world-class assets. Marjan continues to establish high-end projects in the hospitality, leisure and business sectors to support the destination strategy of the emirate."
Tagged as a 'multi-purpose integrated resort', the project is set to be built on the northern emirate's Al-Marjan Island, a man-made archipelago spanning an area of 2.7 million square-metres (sq m) developed by Marjan, fast emerging as a tourist and residential hub.
Slated for launch in 2026, the 1,000+room Wynn resort will include a shopping mall, meeting and convention centre, restaurants and lounges, entertainment facilities, spa, as well as a gaming area.
Its announcement came close on the heels of the Ras al-Khaimah Tourism Development Authority (Raktda) establishing a division to centralise regulations for integrated resorts.
The newly formed Department of Entertainment & Gaming Regulation will set the framework for licensing, taxation, operational procedures and consumer safeguards in the city, prioritising the creation of measures to ensure responsible gaming.
"Integrated resorts are key to the economic development of any tourist destination," said Abdouli. "Introducing such a mega-investment with a company such as Wynn has created more interest in Ras al-Khaimah."
Abdouli emphasised the role that the launch of the resort can play in helping other sectors grow.
"We will need more schools, hospitals and accommodation for all of the employees that will be coming to Ras al-Khaimah to support upcoming projects on Al-Marjan Island. The supply chain will have to evolve.
"More investments will come because the Wynn project is a catalyst in the development of the destination. We've seen this clearly over the past 10 months."
In the months following the development, several other players have made serious inroads into the emirate.
Between February and July 2022, Abu Dhabi's Aldar Properties made three acquisitions through the group's investment arm. This included an AED410m ($112m) purchase of Al-Hamra Mall; an AED770m ($210m) deal for the Rixos Bab Al Bahr hotel; and an AED810m ($221m) transaction completed for Doubletree by Hilton Resort & Spa Marjan Island.
Aldar's portfolio in Ras al-Khaimah currently stands at AED2bn ($540m), all realised within a year.
Other headline-grabbing investments were made by players including Al-Hamra, Abu Dhabi National Hotels (ADNH) and Dubai Investments.
Al-Hamra announced its AED1bn ($270m) strategy in March 2022, presenting a five-year expansion plan to ramp up its real estate and hospitality portfolio. It also launched two phases of its Falcon Island project.
ADNH meanwhile, unveiled plans to set up an AED1bn resort with 1,000 rooms on Al-Marjan Island. With its design rooted in Caribbean styles, the resort will include two hotels sharing a single back of the house and will be operated by a yet-to-be-shortlisted operator in a franchise model with ADNH. Construction is expected to start next year.
Another project with the AED1bn price tag on Al-Marjan Island was announced around the same time by Dubai Investments, whose Danah Bay project is set to be a mixed-use beachfront community.
"We always had Ras al-Khaimah on our radar, due to several reasons. Most important to us is the emirate's natural resources and landscape," said ADNH CEO Khalid Anib, during the forum.
Anib explained that ADNH took a meticulous approach to penetrate the Ras al-Khaimah market, observing economic cycles before making the investment. Between 2014-2019, the developer prioritised acquisitions and brownfield development. Now it finds itself in a cycle where the 'opportunities are ripe for development'.
"The Wynn announcement definitely accelerated the process," he said. "But we strongly believe in the fundamentals of the emirate, and how it differentiates itself from its neighbours.
"It's all about timing in our business – the combination between the cycle and the Wynn project encouraged us to move ahead."
Al-Hamra CEO Benoy Kurien sees the 'Wynn impact' transformative to how visitors and investors view Ras al-Khaimah.

"Wynn has certainly helped us from a sales perspective. Most of our recently announced projects are fully sold out – and this is just the beginning," he said.
"We see four main verticals in Ras al-Khaimah's real estate market – hospitality, retail, residential and commercial. The emirate has done very well in 3 of these 4 verticals – namely hospitality, retail and residential. However, we see untapped opportunities in the commercial space
"We've always been seen as an overflow for neighbouring emirates, catering to investors looking for cost-competitive but quality options because we were 35-40 per cent cheaper than them. This is changing and the gap is fast narrowing."
Another trend Kurien has observed is the rising number of first-time buyers flocking to Ras al-Khaimah's residential market, emphasising the stand alone value proposition that the emirate has to offer.
"These are people buying into the UAE for the first time, choosing Ras al-Khaimah as the location for their first property investment in Ras al-Khaimah. This is truly a shift from the past."
Ras al-Khaimah must now direct efforts into building a strong commercial base and create employment opportunities if it wants to convert short-term visitors into long-term residents.
"We still have more to do in the commercial real estate space – we need to attract financial institutions, startups and technology firms – users of grade A offices – to set up base in Ras al-Khaimah," said Kurien. "The Ras al-Khaimah team is working hard on this, and hopefully this will be the driver for the next phase of growth."
13 December, 2022 | .By MEHAK SRIVASTAVA