Riyadh's super contractor plans reflect the demands of Vision 2030
11 October, 2017 | By Colin Foreman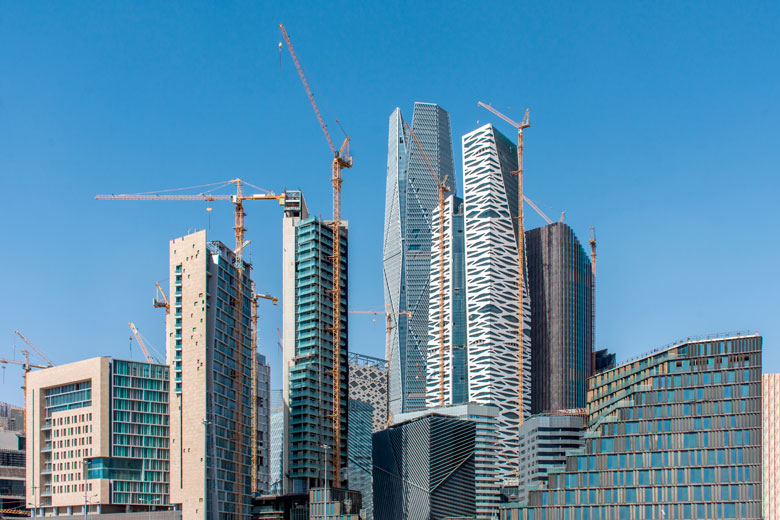 Economic transformation requires a backbone of physical infrastructure that has to be delivered
It has been a tough three years for construction companies in Saudi Arabia. As oil prices started to dip in 2014 the market transformed from a market that was awash with work – such as the 11 stadiums that Saudi Aramco was planning to build in less than two years, to one that offered scant new opportunities.
To make matters worse, payments for work that was already under way stalled, and the ensuing cash flow crisis engulfed the kingdom's two largest contractors – Saudi Binladin Group (SBG) and Saudi Oger. The two construction giants were not the only companies to be affected as contractors across the kingdom were forced to make extensive cutbacks and the new economic realities continued to bite.
Much has changed in Saudi Arabia since 2014, and after two years of high level structural change with Vision 2030 and the National Transformation Programme (NTP), some projects are starting to move into the execution phase.
The first tranche of new projects was the airport public-private partnership (PPP) deals, and over the summer more PPP deals are starting to move towards an award. The Public Investment Fund (PIF) is also becoming more active. Over the past few months, it has launched a series of multibillion-dollar schemes including the Red Sea Project, Riyadh Entertainment City, New Jeddah Downtown, and projects in Medina and Mecca.
Fading legacies
As more work moves toward the construction phase the inevitable question is who will build it? In the past the answer was either SBG or Oger. With these two companies now shadows of their former selves, the ability of Saudi Arabia's supply chain to deliver major projects has become a major concern.
There have been tentative steps to address the issue. In May this year Saudi Aramco and the US-based Jacobs have agreed to form a joint venture company based in Saudi Arabia to provide programme and construction management services for social infrastructure projects in the kingdom.
While the project management company will take considerable strain away from Aramco, which in recent years has been relied upon to deliver some of the kingdom's biggest construction projects, it will do little to reinvigorate the supply chain.
At the end of September, a more significant development was made when Aramco and the PIF moved to create a super contractor with local and international construction companies for the delivery of major infrastructure projects in the kingdom.
This radical departure from the traditional way of procuring contractors' services will involve the establishment of a company that will be 25 per cent owned by Saudi Aramco, 25 per cent by PIF, 25 per cent by a local contractor, and 25 per cent by an international contractor – Aramco and PIF have received expressions of interest from selected local and international contractors.
The new company will be tasked with delivering infrastructure across the kingdom, and this will be the backbone on which many of the goals set out in Vision 2030 will be met. The critical role that this infrastructure will play for the future development of the kingdom explains why Aramco and PIF have opted to break from traditional procurement methods and are moving to establish their own contracting company.
If they do not succeed, Riyadh not only faces the prospect of not delivering new infrastructure projects on time, it also risks not being able to deliver on its other economic objectives and that is not a palatable option for the kingdom's ambitious leadership.
11 October, 2017 | .By Colin Foreman