Saudi construction moves towards Vision 2030
10 June, 2017 | By COLIN FOREMAN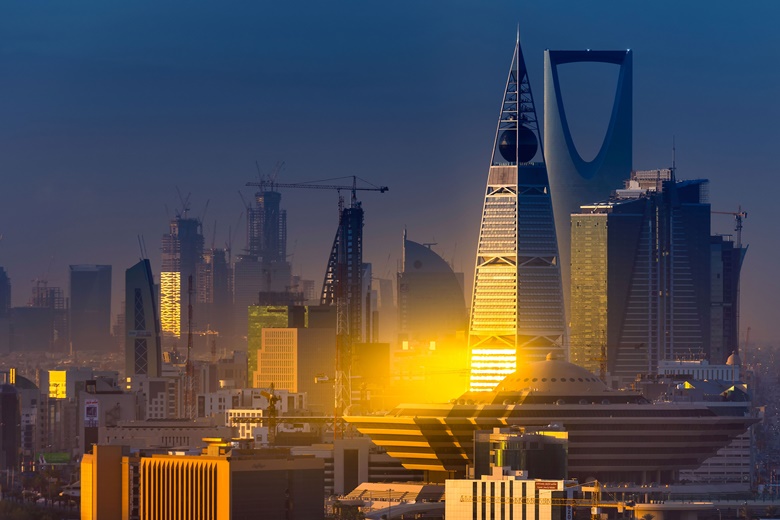 First steps with PPP projects, management bodies, and Saudisation have been taken this year
Saudi Arabia's Vision 2030 is a mesmerising document that aims to transform the country by overhauling the economy and society.
Trusted with delivering billions of dollars of projects each year, and as one of the kingdom's largest employers, the construction sector will play a key role in this transformation. Despite concerns that progress, if any would be slow, the first steps towards the future have been taken this year.
The changes required are manifest. The newly created Bureau of Capital and Operational Spending Rationalisation has cut future project spending in the kingdom by SR100bn ($27bn), and could slash a further SR531bn.
As the public sector retreats from carrying the upfront financial burden of delivering projects, the private sector will be relied on to complete projects using public-private partnerships (PPP).
The first of these PPP deals were signed in early June when the General Authority of Civil Aviation (Gaca) has formally awarded contracts for the development of four airport public-private partnership (PPP) projects as well as the 20-year operation and management (O&M) contract for Jeddah's King Abdulaziz International Airport.
The contract to design, develop, build and operate Taif International Airport has been awarded to a team that comprises Lebanon's Consolidated Contractors Company (CCC), Germany's Munich Airports and local Asyad Holding Group.
Concession agreements for the development of Qassim's Prince Naif bin Abdul Aziz Airport, Hail International Airport and Yanbu's Prince Abdul Mohsin bin Abdul Aziz Airport were also signedwith the team comprising Turkey's TAV Airports and local Al-Rajhi Holding Group.
With more control given to the private sector, government oversight has to improve. In the past the kingdom has relied on large construction companies to complete very large programmes of work and this has led to inefficiencies and project failures.
The solution that Riyadh has formulated is the establishment of professional project management offices within each government ministry and authority to oversee the delivery of future capital expenditure projects.
US-based Bechtel was appointed in February to assist with the establishment of the first of these entities, the National Project Management Organisation (NPMO) known as Mashroat, and other awards are expected later this year, notably for the Ministry of Municipal and Rural Affairs.
Saudi Aramco, which in the past has been tasked with delivering multi-billion dollar social infrastructure projects such as King Abdullah University of Science and Technology (Kaust) and King Abdullah Petroleum Studies and Research Centre, has made a similar move.
In May, Aramco and US-based Jacobs agreed to form a joint venture company based in Saudi Arabia to provide programme and construction management services for social infrastructure projects in the kingdom.
The new body is expected to sell its services to other government bodies in Saudi Arabia that are developing infrastructure. It is estimated that the potential workload will require some 15,000 staff.
Crucially, Jacobs also said that the company will help train and help create quality jobs for Saudi nationals, which is another key part of how Vision 2030 plans to overhaul Saudi Arabia's construction sector.
Traditionally the construction sector has struggled to employ Saudi nationals, and this is something that the government says will have to change. The change will be effected in a number of ways. For professional services, companies such as Jacobs and Bechtel have started hiring Saudi nationals in technical, management and leadership positions.
The first major appointment came on 18 June when Bechtel announced that it has appointed Abdulrahman Al-Ghabban as its country manager for Saudi Arabia – the first time the position has been held by a Saudi national.
For unskilled labouring roles legislation is required. When announcing this year's budget in December last year, Riyadh outlined plans to introduce an expat levy from 2017 with charges rising up to SR800 a-month for each foreign worker by 2020. Companies are already understood to be paying a charge of SR200 a-month for each expat employee that exceeds the number of local employees.
The potential cost increase will be significant, and is aimed at providing companies with enough of an incentive to hire local workers. The cost of labour in the kingdom is about SR3,000-4,000 a-month, which means that in 2020 labour costs will have increased by about 20 per cent.
The steps taken by the construction sector this year demonstrate that change is possible in Saudi Arabia. The challenge is making the changes quick enough to satisfy both a government eager to deliver on its policy commitments, and an industry that is desperate for new work.
10 June, 2017 | .By COLIN FOREMAN