The road ahead for UAE manufacturing
28 October, 2022 | By MEHAK SRIVASTAVA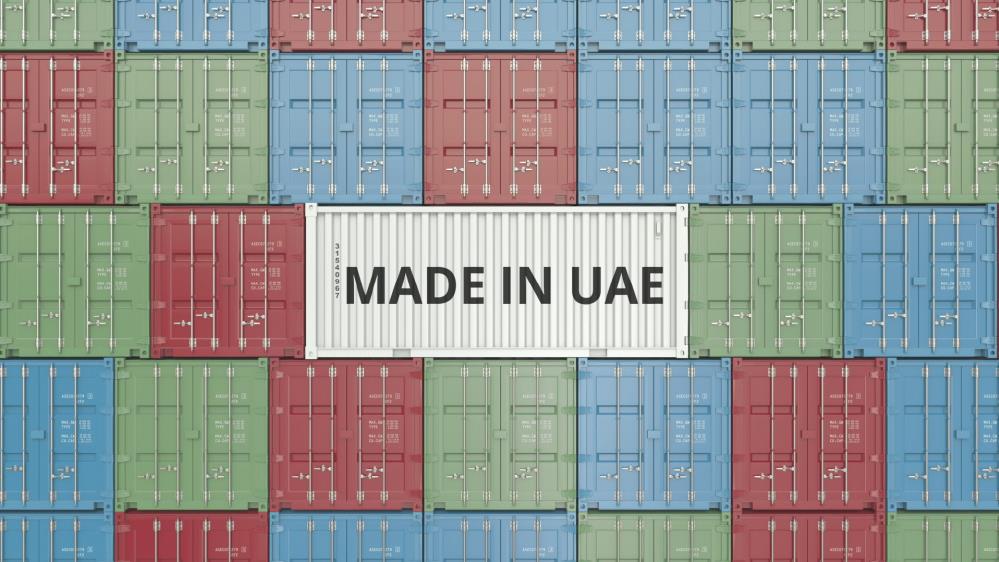 Manufacturing and industrial growth are quickly emerging as flagbearers for the UAE's long-term economic diversification ambitions

Enabling a flourishing local industrial and manufacturing economy has long been a strategic priority for the UAE.
Since the formation of the federation, the country has successfully built its base in key focus sectors, including metals, petrochemicals, building materials, pharmaceuticals, and high-value downstream processing sectors.
But arguably, the challenges of recent years and the effects of the Covid-19 pandemic have driven home the need to further reduce reliance on imports and to enhance the UAE's manufacturing competitiveness.
"Fundamentally, many of the things happening in the world are in favour of the UAE's industries and present many opportunities for success," said Abdullah Alshamsi, assistant undersecretary, Industry Growth Sector, Ministry of Industry and Advanced Technology (MOIAT).
Speaking at the first MEED-Mashreq Manufacturing Business Leaders Club on 29 September, Alshamsi emphasised the UAE government's seriousness to bolster its manufacturing sector.
"We have embarked on several changes to make the UAE a more attractive place to do business. Operation 300bn is one such example," he said. "There is more to come, because industry has become a number one priority for our leadership."
WATCH HIGHLIGHTS FROM THE CLUB HERE
Strategic focus
Introduced in March 2021 as the UAE's national industrial strategy, Operation 300bn aims to expand the contribution of the sector to the GDP from AED133bn currently to AED300bn by 2031 – by no means an easy feat.
Spearheaded by the MOIAT, the programme will see a greater incorporation of advanced technologies, sustainability, and investments in talent to achieve the overarching goal.
The ministry is working closely with the Emirates Development Bank, which has allocated AED30bn to support priority industrial sectors and finance 13,500 large firms and SMEs over a period of five years.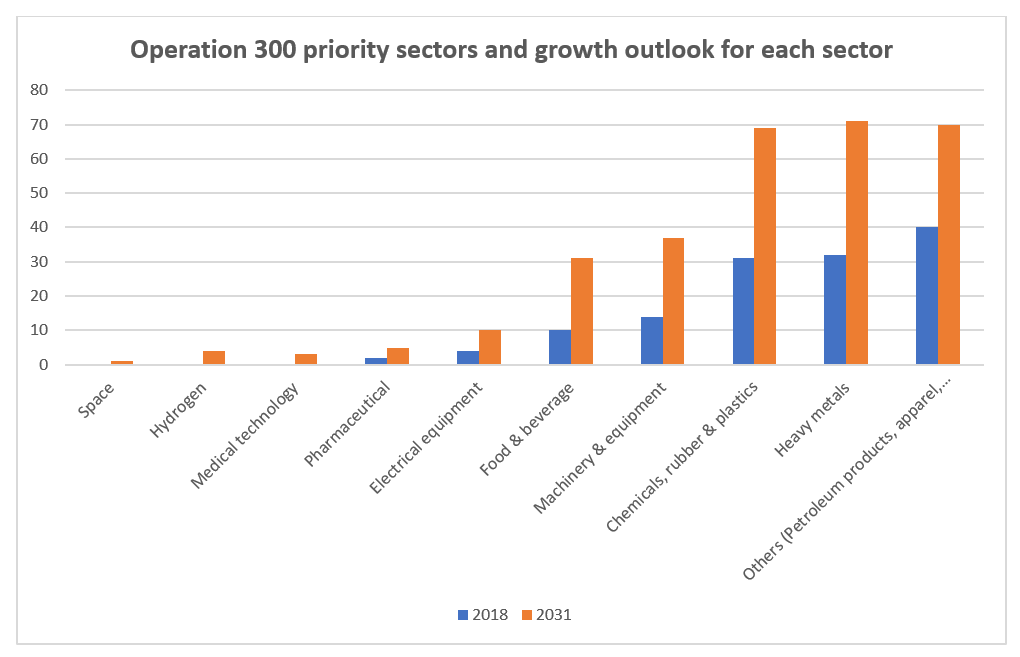 The ministry is further introducing 17 initiatives – including a national in-country value programme, an updated industrial law, a unified digital platform, and establishing an ecosystem for research and development.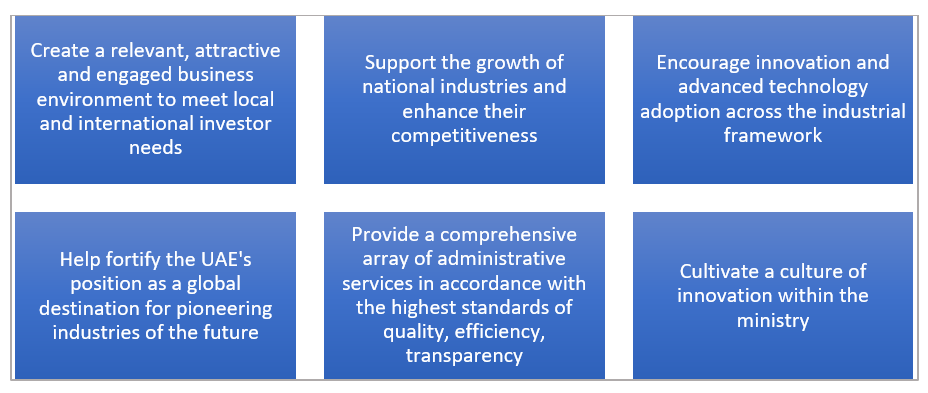 Six main objectives of Operation 300bn (Source: MOIAT)
More specifically, the programme will target both established industrial sectors in the UAE, such as plastics, metals and petrochemicals, as well as industries of the future including aerospace and biotechnology; and strategic sectors such as food and healthcare.
"Some of the things we are doing through Operation 300bn include the opening of new markets, made possible through the free trade agreements signed with India, Indonesia and Israel recently," said Alshamsi. "The UAE's industries can build on this competitive advantage and enter high-growth markets."
A crucial part of the programme is ensuring its reputation precedes itself. One way the MOIAT is doing this is through the 'Make It in The Emirates' campaign, a comprehensive promotional strategy that invites contributions from investors, innovators and developers to Operation 300bn, and highlights the strengths of the programme.
"The government is open to hearing from industries and to learn how we can make business better," said Alshamsi. "Open dialogue will help us achieve our goals and ambitions."
The national in-country value (ICV) scheme meanwhile aims to boost the growth of UAE-based industries by redirecting half of government spending on procurements and tender contracts into the national economy by 2031. In 2021, it redirected more than AED41bn of spend into the national economy.
A concern, however, raised by representatives at the Business Leaders Club is that the ICV scheme hasn't fully created a level-playing field in many cases because the cheapest bid still wins.
"What you've seen of ICV so far was just the first phase," said Alshamsi. "In the next phase, we'll relaunch it as ICV, which we hope will be more aggressive and impactful, and will address concerns currently raised by industry players."
By 2025, the ICV scheme aims to increase the number of ICV-certified companies and spend towards Emirati products and services to AED55bn, from AED33bn in 2020.
Making a case
A question to be raised is – why manufacturing?
Since the oil price crash of 2015-2016, the UAE has increased its efforts to counter economic fluctuations by reducing dependence on oil export revenues.
Manufacturing and industrial growth was quickly recognised as a growth driver. As a sector with easy links to several others – skills, transport, research, services – manufacturing supports a broader segment of the economy.
With the rise of Industry 4.0, manufacturing is benefitting from advancement in technology and innovation, areas that the UAE readily compliments with its own strategic visions.
Several factors are already working in favour of the UAE, many of which have been introduced in recent years. These include 100 per cent foreign ownership of specific businesses; favourable tax environment; long-term visa reforms; dual licensing; and a complementary legal system.
Further supporting the business environment is overall political stability; positive credit outlook; favourable bilateral relations and free trade agreements; and strong infrastructure in areas such as transport, logistics and telecommunications.
But that does not mean the manufacturing landscape is bereft of challenges. Rising competition in the region, especially from neighbouring GCC states has meant that manufacturers in the UAE's 'open waters' have had to reassess their strategic priorities.
At the same time, macroeconomic challenges such as inflation, supply chain delays, rising commodity prices and surging fuel rates are hurting producers and their margins.
"Moving forward, the UAE manufacturing industry can differentiate itself from regional players by being recognised for sustainability, quality and advanced technology," said Alshamsi. "It's something in our DNA, something so many other countries lack. This can become a true differentiator for us."
28 October, 2022 | .By MEHAK SRIVASTAVA