UAE and Bahrain eye $550m Israel opportunity
12 October, 2020 | By DOMINIC DUDLEY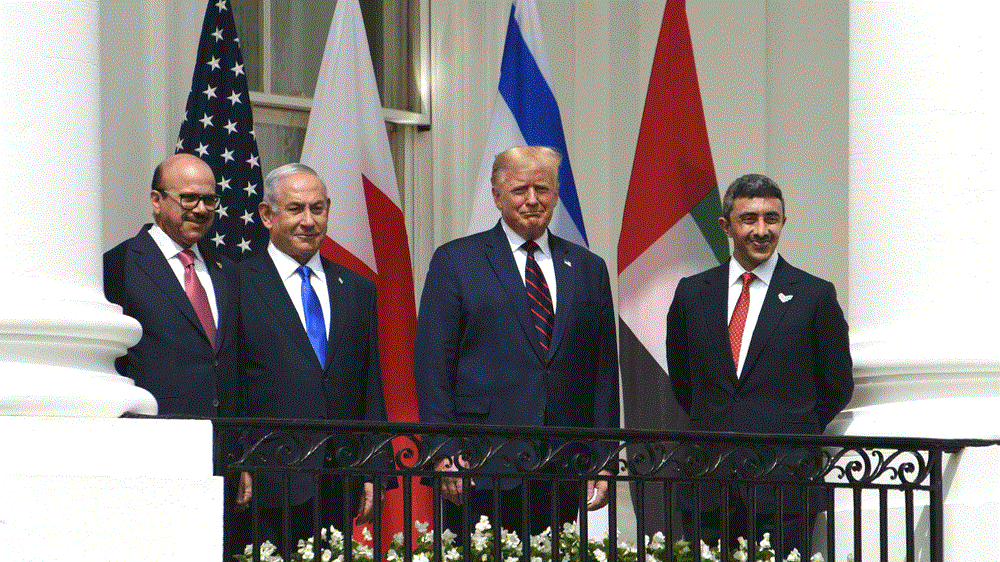 Normalisation of relations with Israel through the Abraham Accords offers UAE and Bahrain the chance to boost their economies in key sectors
When UAE Minister of Foreign Affairs & International Co-operation Sheikh Abdullah bin Zayed al-Nahyan travelled to Washington on 13 September to sign the Abraham Accords normalising relations with Israel – announced a month earlier to a surprised world – the delegation he took with him told a clear story.
Among the colleagues were Minister of Economy Abdulla bin Touq al-Marri, Minister of Industry & Advanced Technology Sultan al-Jaber and Minister of State for Financial Affairs Obaid al-Tayer.
There are many potential implications of the deal, which will play out in the coming months and years, but the commercial relationships are perhaps the most straightforward for the two sides to exploit in the short term.
It will, for example, take time for the full diplomatic significance to be known, as it depends on how many other countries follow the UAE and Bahrain and sign their own deals with Israel.
Defence and security cooperation can now develop more openly, although the big military win for the UAE depends on the US allowing it to buy F-35 jets, which may not be forthcoming.
Business deals
In the immediate aftermath of the deal, Moody's Investors Service said it would have "important economic ramifications for both sovereigns, with the UAE particularly benefiting from enhanced tourism and transportation opportunities".
Putting a value on that is hard, but Al-Marri said in an online discussion hosted by the Atlantic Council on 16 September that the UAE is looking at $300m-550m-worth of business to come from the agreement, roughly in line with the $500m cited by Israel officials in the Financial Times a day before.
The range of areas where these deals could emerge is extensive, with more than a dozen sectors identified in the formal peace agreement, including aviation, healthcare, science and technology, tourism, energy, agriculture and water.
Already there has been a string of commercial deals announced, although many of them have been limited to memoranda of understanding (MoUs) or proposals to cooperate rather than anything more concrete.
For example, Israeli banks Leumi and Hapoalim have signed MoUs with First Abu Dhabi Bank and Emirates NBD, while DP World has said it is forming a joint venture with Israel Shipyards to bid to operate the Port of Haifa.
Both economic powerhouses are very well aligned. We have a lot of similarities in our economies. We would like UAE to be a 'scale-up nation', alongside Israel's 'start-up nation'
Minister of Economy Abdulla bin Touq al-Marri
There are many other areas where the UAE and Israeli economies could benefit. Israel is strong in sectors such as agriculture technology, desalination, medicine and venture capital, all of which are of interest to the UAE and would help it to diversify away from oil and gas. The UAE has expertise in areas like transport logistics and land reclamation and both countries have invested heavily in conventional and renewable energy.
"There is a lot of complementarity between the economies that they can make something of," says a former UK minister for the Middle East, Alistair Burt.
This view is echoed by Al-Marri, who said: "Both economic powerhouses are very well aligned. We have a lot of similarities in our economies. We would like UAE to be a 'scale-up nation', alongside Israel's 'start-up nation'. We do not need to compete."
Some of the other MoUs announced since mid-August offer a sense of what might be possible. They include one between Mohamed bin Zayed University of Artificial Intelligence and Israel's Weizmann Institute of Science to collaborate on artificial intelligence and another between Abu Dhabi Stem Cells Centre and Pluristem Therapeutics covering regenerative medicine.
Abu Dhabi-based Group 42 has said it is establishing a wholly owned subsidiary in Israel, following on from a previously announced plan to collaborate with Israel's NanoScent on developing a new test for Covid-19. The UAE's Apex National Investment has also signed an agreement with Israel's TeraGroup to conduct research on Covid-19.
Despite all this early activity, the experience of peace deals that Israel has struck with Jordan and Egypt in previous decades gives some reason for caution.
Tel Aviv has often had a difficult relationship with these neighbours and only very limited economic cooperation has developed across their borders – sometimes described as a "cold peace".
Israeli analysts suggest the situation with the UAE may prove to be more constructive and Al-Marri insisted it will be different this time. "What makes this a bit different is both nations come in with an attitude of excitement, curiosity," he said.
Realising potential
Nonetheless, it will take time for the full potential to be realised, not least in the tourism sector, which Moody's identified as an obvious area of focus.
While there may be some demand for direct tourism between the two countries, there is also likely to be wariness among many potential visitors.
A bigger opportunity will come from Emirates and Etihad taking advantage of their global hubs in Dubai and Abu Dhabi to attract Israeli passengers wanting to travel further afield and international travellers heading to Tel Aviv and Jerusalem.
Economic relationships that have been developing between Israel and the Gulf states are even more important in this time of the coronavirus, in which traditional economic patterns are being disrupted
Michael Stephens, Royal United Services Institute
Israel's deal with Bahrain has yet to translate into any publicly acknowledged business arrangements, although given it was announced a month after the UAE-Israel pact that is at least in part due to less time being available to make any deals.
However, at a time of economic hardship caused by the coronavirus pandemic and subsequent lockdowns, it too will be keen to find ways to give its economy a boost from a fresh source.
Associate fellow at the London-based Royal United Services Institute, Michael Stephens, says: "Economic relationships that have been developing between Israel and the Gulf states are even more important in this time of the coronavirus, in which traditional economic patterns are being disrupted."
12 October, 2020 | .By DOMINIC DUDLEY