UAE firms steer towards net-zero future
17 April, 2023 | By Mehak Srivastava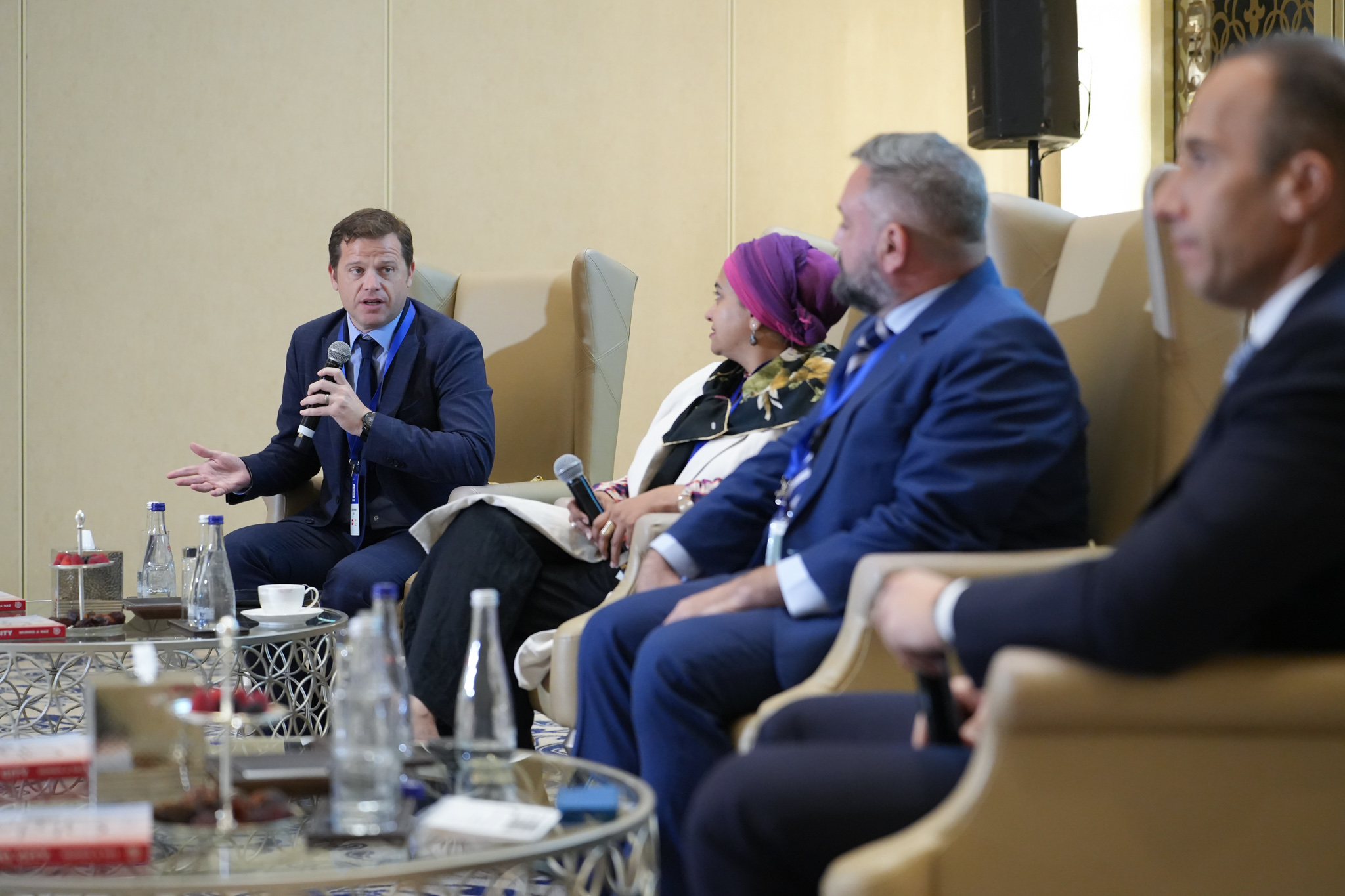 Decarbonising supply chains requires concerted efforts from governments and businesses alike
 Key takeaways:
The inaugural MEED-Mashreq Business Leaders Forum on 31 January highlighted the importance of reducing supply chains' carbon footprint
Supply chains account for over 80 per cent of global greenhouse gas emissions
Collaboration between governments, businesses and banks is essential to achieve net-zero targets
Clarity on varying terminology and language is necessary to avoid the risk of greenwashing
Carbon markets are set to be a gamechanger, creating a local economy and providing incentives to companies to reduce emissions by turning carbon into profit
Accounting for more than 80 per cent of global greenhouse gas (GHG) emissions, supply chains are regarded as a significant roadblock in realising global decarbonisation efforts.

Industry experts gathered at the inaugural MEED-Mashreq Business Leaders Forum on 31 January, titled The ESG Impact on Modern Supply Chains, to discuss the opportunities that lie ahead as governments and businesses work towards reducing their carbon footprint.

Part of the challenge is defining and standardising what ESG terminology actually means.

"One of the biggest challenges for us, especially in the last decade, is the confusion between a lot of the different terminology," said Farah Naz, head of innovation, sustainability & ESG – MEA at engineering consultancy Aecom, and chair of the Chartered Institution of Building Services Engineers.

"Before anything, we must clarify what we really mean by net-zero."

The terms 'net-zero', 'carbon neutral', 'climate positive', and 'climate negative' are often used to describe the impact of human activities on the environment, particularly with respect to greenhouse gas emissions.

"Many companies use varying terminology almost interchangeably, which can lead to the issue of greenwashing. The question companies first need to ask themselves is – what does this terminology mean for themselves or a client?" said Naz.

And while progress has been rapid, discussions with clients reveal that the focus today is largely on reducing carbon footprint as much as possible in the short term, with net-zero seen as a long-term goal, said Husam Abdel Al, senior director for origination and sustainable finance, investment banking at Mashreq.

"As financiers, we don't want to burden a developing industry by putting a cap on emissions. In fact, a better approach is to have a production to emissions ratio that better defines areas of improvement."

Transforming industries

 Typically regarded as high carbon emitters, industrial manufacturers are now feeling the heat when it comes to meeting rising 'green expectations'.

Panellist Ivano Iannelli, senior sustainability consultant at Emirates Global Aluminium (EGA) highlighted the aluminium producer's experience working with German multinational carmaker BMW. In February 2021, the BMW Group became the first customer for EGA's solar-power manufactured aluminium. While BMW has been an EGA customer since 2013, it decided to use the relatively cleaner alternative to reduce its carbon emissions by 222,000 tonnes annually.

"The point here is that decarbonising the supply chain cannot be a single-handed effort," explained Iannelli. "We were driven to come up with our specialised, lower-emission product because we saw the demand from the likes of BMW, and also because of the UAE's overall shift towards net-zero at a national level.

"Now, our biggest focus is elevating the level of ambition and knowledge even with the smallest participants in our supply chain. It's easy to source data from the bigger players in your supply chain, but it gets more challenging when you are dealing with smaller supply chain partners. This is where collaboration can help."

As a construction and infrastructure consultant, Aecom finds that supply chains constitute a significant part of its scope 3 emissions, which are all the indirect emissions that occur in a company's value chain. Naz explains that in 2019, the firm pledged to reduce 50 per cent of its scope 3 emissions by 2030, driven by investor and customer demand. Thus far, it has managed to achieve a 10 per cent reduction.

"What we realised in our first year is that we cannot do it by ourselves, but also that the kind of knowledge and awareness required to achieve our goal does not exist in the supply chain," said Naz. The firm further found that suppliers faced a lack of capital and resources, and in many cases did not have the mindset to embrace change.

Aecom then initiated a supply chain engagement strategy, working with its suppliers to create their ESG strategy, by leveraging Aecom's own funding pool.

"This is where collaboration and co-creation comes into play," said Naz. "It doesn't always mean adopting the latest technology or investing millions – it's about rethinking processes in a more innovative way and changing the mindset."

Equally relevant is collaborating with industry peers, said Abdel Al.

"Industry peers and competition must also be aligned when it comes to achieving national and global targets, so that no one company is at a disadvantage simply because they are trying to create a more ethical and resilient way of working," he said. "It also creates a level-playing field for suppliers, who must upskill themselves to work with an entire industry and not just one company."

Iannelli added that firms are also "coming to terms" with the commercial resilience surrounding net-zero, and that efforts around carbon trading and credits help build a better business case.

"What was easily neglected just 10 years ago can no longer be ignored today. You have investors actively rejecting fossil-fuel linked industries, simply because they see it as a train approaching a station."

Carbon markets

Carbon trading systems or 'carbon markets' are seen as an important stepping-stone to advancing the local economy and industries towards a net-zero environment.

For instance, in November 2022, Abu Dhabi Global Market (ADGM) said that it would soon launch the UAE's first carbon-credit exchange in partnership with AirCarbon Exchange, a digital commodities exchange. ADGM will regulate carbon credits and offsets as emission instruments, and issue licenses for exchanges to operate both spot and derivative markets.

"Carbon markets will help create a dedicated revenue stream which can then be utilised to support the commercial maturity of yet-to-be-realised technologies such as carbon capture and hydrogen," said Iannelli. "Such a system is a market-based mechanism, which means that the government controls the quantity of allowances but does not control the price. This enables major-emitters to invest in their decarbonisation and at the same time enable a circular economic cycle."

The presence of a local market also helps bolster the green credentials of globally competitive UAE firms. The Carbon border adjustment mechanism is a border fee imposed by the European Union on carbon intensive imports such as heavy metals, cement and fertiliser, and will come into effect in phases from 2023. This is expected to have an impact on UAE-based entities and their suppliers.

By retaining carbon credits and trading within the local economy, UAE-based entities can reduce their overall footprint and thus face lower tariffs in markets such as the EU.

"It's simple: I invest in the country and the country invests back in me," said Iannelli.

The construction industry also sees benefits in the establishment of a local carbon market.

"One of the questions we often get from our clients in the built environment sector is why we do not have local carbon factors or benchmarks," said Naz. "By building a local carbon market, we will be able to have carbon factors of local materials, which helps us regionalise the whole picture."

Relevant terminology
A net-zero goal or target means that an individual, company, or country has reduced its GHG emissions as much as possible and has offset the remaining emissions through activities such as carbon capture, reforestation, or the purchase of carbon credits. The aim is to balance the amount of GHGs emitted with the amount removed from the atmosphere.
Carbon neutral means having a net zero carbon footprint, which means that the total amount of carbon dioxide released into the atmosphere is equal to the amount removed. This can be achieved through a combination of reducing emissions and offsetting the remaining emissions through activities such as carbon credits.
Climate positive refers to actions or initiatives that not only reduce GHG emissions to zero, but also actively remove more carbon dioxide from the atmosphere than they emit. For example, planting trees, which absorb carbon dioxide through photosynthesis, can be considered a climate positive action.
GHGs are categorised into three groups or scopes. Scope 1 covers direct emissions from owned or controlled sources, such as fuel combustion or company assets. Scope 2 refers to indirect emissions from elements such as purchased electricity, cooling and so forth. Scope 3 covers all indirect emissions that occur in the value chain of the reporting company, including both upstream and downstream emissions. This includes purchased goods and services, logistics, employee community etc.
Carbon markets are trading systems that allow emitters to offset their unavoidable emissions by purchasing carbon credits emitted by projects targeted at removing or reducing GHG from the atmosphere.
17 April, 2023 | .By Mehak Srivastava