UAE overtakes Kuwait to lead GCC oil infrastructure investment
21 March, 2018 | By WIL CRISP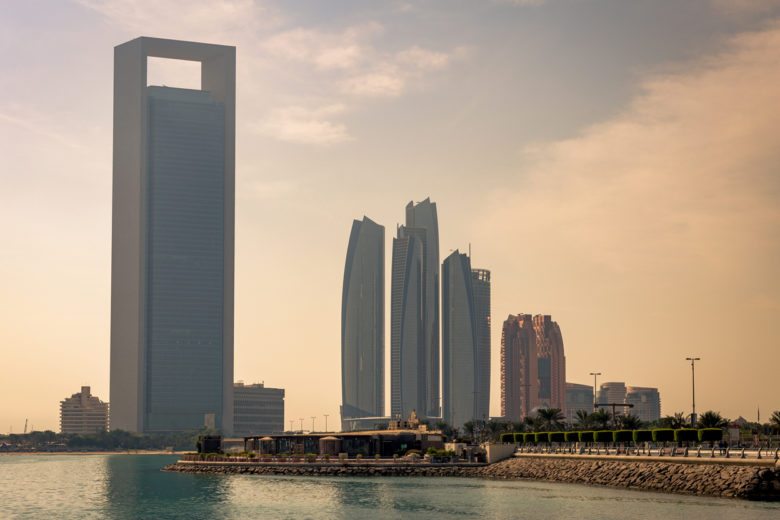 The oil projects either planned or under execution in the UAE are worth a combined total of $63.6bn
The UAE has overtaken Kuwait to become the biggest investor in oil infrastructure after announcing plans for a new refinery as it looks to increase downstream capacity.
The total value of oil projects that are either planned or under execution have increased by 20.2 per cent, rising from $52.9bn on 29 August 2017 to $63.6bn on 6 March 2018.
Kuwait has seen a 7 per cent decline in the value of its active oil projects over the past six months, and is now the GCC's second-biggest investor in oil projects with the total value of projects that are planned or under execution standing at $52.7bn. Saudi Arabia is the third-biggest investor, with projects worth $36.7bn.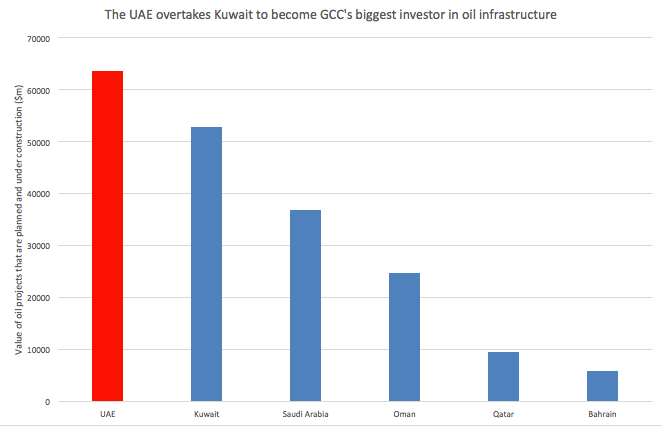 Abu Dhabi National Oil Company (Adnoc) announced plans to build its new refinery on 19 September 2017, but did not give exact details regarding the size and scope of the project. Abdulla al-Messabi, manager of Adnoc's refining and petrochemical business unit, said at the time that Adnoc would increase its downstream investments by adding a new "world-scale" refinery.
Earlier this month, Adnoc requested expressions of interest (EOI) for the front-end engineering and design (feed) contract on the project. Bechtel, among other companies, has been invited to submit EOI documents. The plans for the new refinery fit with Adnoc's 2030 strategy to maximise value across the board, including doubling gasoline production in five years to 10.2 million tonnes per annum (tpa).
Adnoc is currently looking to both maximise the commercial value of its upstream assets and intensify its downstream expansion drive – particularly to capitalise on the global surge in demand for petrochemicals, particularly from Asia. Abu Dhabi's state oil firm is in the middle of splitting its offshore entity Adma-Opco into three concession groups to be operated in partnership with international oil and gas companies, with Adnoc retaining a 60 per cent stake.
In March,  Adnoc signed a contract worth $875m with Italian oil company Eni for two offshore oil blocks in the emirate's latest awarded concession. Eni has been awarded a 5 per cent stake in the Lower Zakum crude deposit and 10 per cent stake in the area containing the Umm Shaif and Nasr fields.
The total value of all upstream projects in the UAE comes to $36.1bn, making them worth 57 per cent of the total value of all oil projects. A third of the total value of the UAE's active oil projects comes from downstream projects, which have seen significant expansion recently and are currently worth $21bn. Active oil transmission and storage projects in the UAE make up 5 per cent of the total each.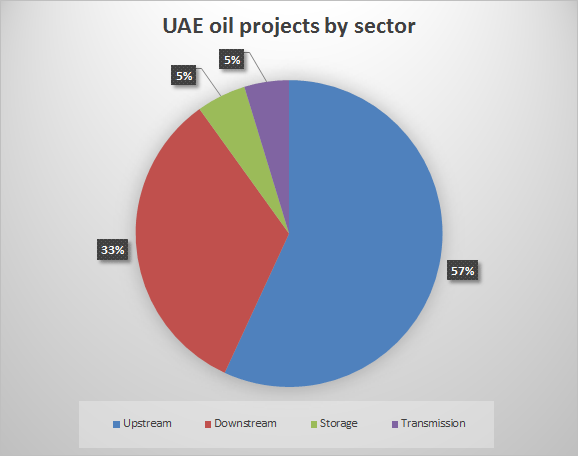 The majority of the UAE's oil projects are currently under execution, but there seems to be a reasonably healthy pipeline of projects in pre-execution phases. Projects under execution are worth $41.9bn, 66 per cent of the total value of all active oil projects.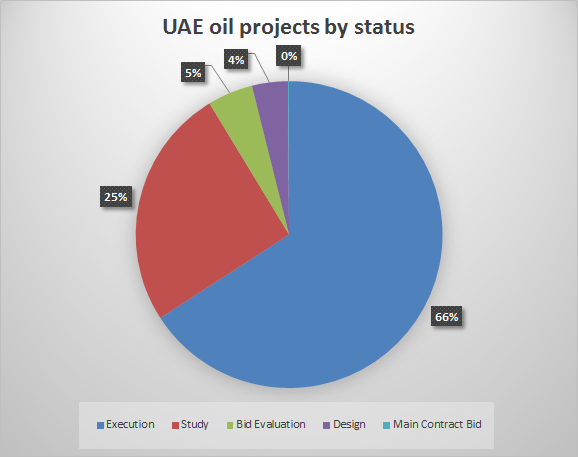 The value of projects under execution has seen a significant expansion recently with several significant engineering, procurement and construction (EPC) contracts being awarded. These include the contract for the $3.1bn upgrade at the Ruwais oil refinery, which was awarded to a joint venture of Samsung Engineering and CB&I on 7 February.
The Ruwais refinery modifications, scheduled to be completed by the end of 2022, will enable Adnoc's Ruwais Refinery-West complex to process up to 420,000 barrels a day (b/d) of Upper Zakum crude, or similar crude types from the market. This will free up Murban crude grade, which commands a higher price on global oil markets, to be utilised for export sales.
The value of projects in the study phase has been boosted by the announcement of the planned new refinery and currently stands at $16.2bn, 25 per cent of the total value of all active oil projects in the UAE, but that figure could well rise next month.
Last week, Adnoc chief executive and UAE Minister of State Sultan al-Jaber said his company would present investment opportunities to potential investors at the Downstream Investment Forum in Abu Dhabi on 13 and 14 May. New petrochemicals projects are also likely to be discussed at the conference.
A key part of Adnoc's Vision 2030 corporate policy is the expansion of the Ruwais refinery into an integrated refining and petrochemicals production facility, enabling it to triple its annual production capacity to 14.4 million tonnes by 2025.
The total value of active petrochemicals projects in the UAE has risen dramatically recently, driven mainly by announcements of new projects that remain at the study phase. At the beginning of 2017, the value of petrochemicals projects at the study stage stood at $2.0bn. Since then, it has nearly tripled and currently stands at $7.6bn.
Significant new projects announced include the $4bn Borouge 4 petrochemicals complex, the $1bn chemicals complex at Kizad, and the $600m linear alkyl benzene lab complex.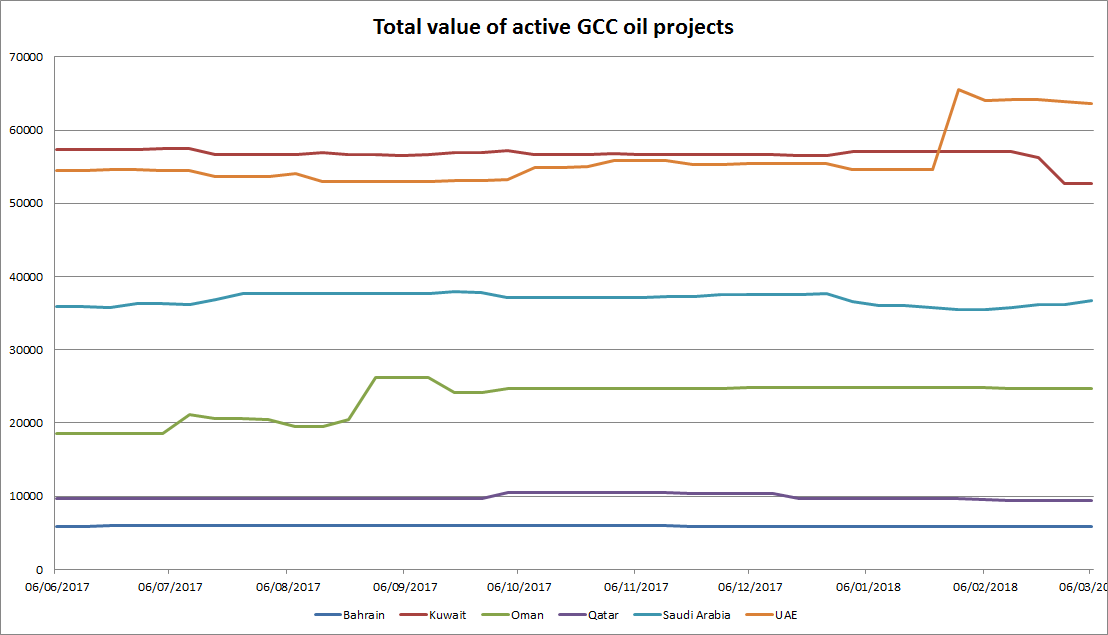 21 March, 2018 | .By WIL CRISP